Name: Kayla Bernice Smith
From: Little Rock, Arkansas
Grade: 10th
School: J.A. Fair High School
Votes: 0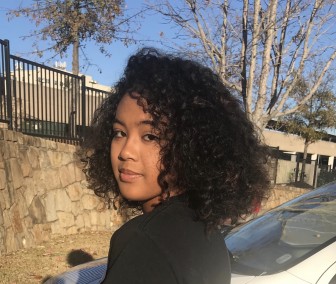 Kayla Smith
December
5, 2017
"Volunteers do not necessarily have the time; they just have the heart."– Elizabeth Andrew
Indeed that Elizabeth Andrew was right. According to her quote,"…they
just have the heart" refers to individuals who enjoy
volunteering. I offer to help others in order to benefit communities
around the world.

Throughout my middle school and high school years, I have been apart
of an exceptional program called "AVID." AVID is an
organization in which students impact the world in positive ways.
Students are given the opportunity to volunteer in places such as
local pizza shops, college fairs, and even concession stands. But the
most significant volunteering opportunity took place at the Arkansas
Food Bank in which Global Youth Service Day occurred. I chose it
simply because I wanted to take action by providing many communities
with food and coming up with solutions for issues confronting today's
society.
I've dedicated my time to benefit others since the beginning of my high
school year. AVID has increased my motivation in volunteering.
Throughout high school, I've rendered 30 hours of my personal time,
giving Global Youth Service Day nearly three hours. Volunteering for
this organization only occurs once a year, so I put all my efforts in
benefiting communities.
At the Arkansas Food Bank, I had many responsibilities such as packaging
food and working as a team. In the various missions such as putting
labels on food cans, filling boxes with food cans, and communicating
with my team, I can proudly say that I've enjoyed my experience. In
my first experience, I was clueless about what my responsibilities
were. However, my second year of volunteering for the organization
lifted my confidence and motivation in where I visioned myself as a
leader.
The biggest challenge as a volunteer would be developing to different
environments. Helping at the Arkansas Food Bank was a different
location so it was difficult to cope with the surroundings and tasks.
However, being able to communicate with those who knew what to do,
helped me become more comfortable in the environment I was in.

Volunteering has made me love the people I'm surrounded by.
Communities are benefited by our positive actions. But what benefits
me the most are the smiles that are put on peoples' faces. We've not
only contributed to our communities but for many communities around
the world. It makes me happy when my teammates volunteer to help
others in need.

I've learned to take pride in what I do. Whether my actions make a
small change, they can have a big impact. In this experience,
packaging food cans may seem like a small help, but think about the
impact it could have on the lives of people all over the world. I've
also learned a significant lesson while volunteering, which is
gaining confidence. I'm given the opportunity to communicate with new
people. It has definitely helped me with my social skills.
I may have the time to volunteer, but I have the heart to benefit
others with my passion and dedication.