Name: Sha'Kiya Madison
From: Detroit, MI
Grade: High School Junior
School: Tuskegee University
Votes: 0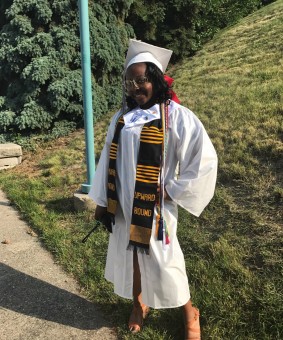 While
in Wayne State's Trio Upward Bound this past summer, my peers and I
helped design a "Black Lives Matter" candlelight vigil. The
purpose of this was to pay respect to the victims and to show that
each student in some way could connect to the current societal
issues: mass shootings, police brutality, and overall black on black
crimes. As a native resident of Detroit, Michigan I witnessed so many
of those issues far too often and realized the effects it had on my
community. It was almost as if people's stories were crying out
trying to be heard.
The
candlelight vigil was a public event attended by students in
Wayne State's Trio Upward Bound program and those enrolled at Wayne
State University. It was satisfying because complete strangers were
able to cry on one another's shoulders over such a serious issue.
During the vigil, my peers and I passed out candles to symbolize
those who were victimized. We also read pieces of paper with the
stories of previous and current victims, in hopes to raise awareness.
Shortly after, the people within the community were allowed to share
out the stories of the loved ones. With guidance counselors present,
we were able to provide all members of the community with the help
they needed. I personally deem this community service even the
most valuable because of the amount of people in the community we
were able to help. Although we had very few challenges like time
management, limited resources, and space this community service
experience was an overall success.