Name: Jonathan Sams
From: Olympia Fields, Illinois
Grade: Sophomore
School: High School
Votes: 0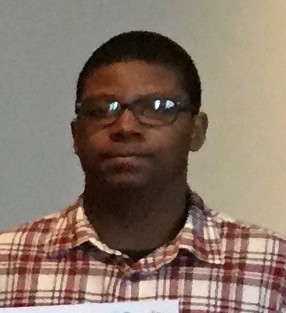 My name is Jonathan Sams and I am currently a senior at Rich Central
High School. I chose to attend Rich Central because I wanted my high
school experience to be filled with different outlooks and
viewpoints. I have been able to see the world from a different
standpoint because of the many conversations I have had with friends
and teachers at Rich Central. Some of those conversations were light
including topics such as sports, school activities or the school
lunch menu. Other times, the topics were more complex around
religion, politics or social issues. We didn't
always end the discussion agreeing, but we agreed to disagree. I
really enjoy hearing other opinions, thoughts and ideas. I tend to be
more of a listener because I want to be sure I am clearly hearing all
sides of an issue. I believe this is helpful in making me a more
open thinker. I have been active in various school activities
including the Varsity Golf Team and the Wrestling Team. Both of
these sports require discipline and patience. I believe that these
two characteristics are important to have a successful future. I
have been consistently on the honor roll since my freshman year and
have stretched myself by taking honors classes. My personal
activities include volunteering for community services in the city of
Chicago at a local church and the Amani House Shelter. I am also a
junior member of the National Society of Black Engineers. My personal
interests are golfing and spending quality time with my family.
My future goals are to become a computer engineer as I have always loved
working with computers. I am most interested in learning how
computers work and come up with creative designs/ideas to improve
them. My hope is to work for a company and be part of a team of
engineers who create hardware or software that is innovative. It is
also my hope to improve the lives for everyday people by creating
software that is user friendly and is relevant to their needs.
Computers tend to be intimidating for many. I want to be that person
that makes using a computer a learning experience while at the same
time making it an enjoyable experience.
I expect my college education to help me take the knowledge I already
have and expand it to a much higher level. I think education should
go far beyond just reading books but should be about educating
through experiences. Those experiences should include surrounding
myself with people from all walks a life and taking the time to
understand the things that drive them. It should also include the
things they are passionate about. I want to always have an open mind
to different opinions and hear stories of success. My hope is to
have an education that causes me to be a better person and have a
well-balanced view of the world. To be a good student, I believe it
is critical to be willing to listen, adjust and then act.
I have been a caddie at the Calumet Country Club in Homewood, Illinois.
My time there has allowed me to come into contact with several other
students around the south suburban area. I have also had the great
opportunity to be part of some of the country club's
events. As always, I am taking in the advice of the club members as
it concerns my future. The knowledge I have gained has been very
valuable. I would definitely recommend the program to others. I
believe that I am a good candidate for the Chick Evans Scholarship
for caddies because of my strong work ethic, willingness to learn and
my desire to further my abilities as a computer engineer.
This is my senior year and it has caused me to look back over my goals and
accomplishments since my early elementary school days which have been
great. But, it is clear to me with a college education, I can do
more in my community and for others. I have listened to many stories
of people who have succeeded as computer engineers. I have had the
opportunity of connecting with top executives at Oracle, meeting men
and women of different faiths to hear their point of view. I was
most moved by my visits at the Amani House Shelter. My first thought
was how can I do more to improve their lives.
Overall, I know that these next few years in my life are critical in shaping
my future journey. My past accomplishments have been character
building including receiving the District 162 Academic Hall of Fame
award. As a senior in high school my thoughts have been turned
towards finishing strong and focusing on my future plans. In
thinking about my future, it is my greatest hope to impact the lives
of ordinary people in an extraordinary way. Being selected as a
recipient of the Chick Evans Scholarship will certainly make that
happen.