Name: Noelle Thompson
From: Simpsonville, Kentucky
Grade: I am a senior in the class of 2018 I was a sophomore in 2015-16
School: Martha Layne Collins High School
Votes: 19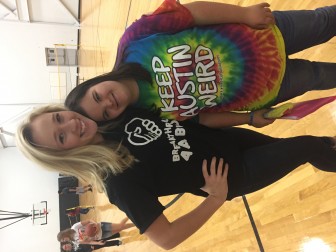 Name: Noelle Thompson
Hometown: Simpsonville, KY
Break Through 4 a Buddy!
Promoting Social Inclusion of those with Intellectual and Physical Disabilities
Every student needs opportunities for one-on-one friendships and leadership
development to transition successfully into higher education and/or
career settings. It can be challenging for students with intellectual
and physical disabilities to find these opportunities within their
classrooms and community environment. My compassion for special
needs persons began when my Sunday school teacher adopted 2 girls
with Down Syndrome from Ukraine. I became involved in this process
and continue to witness the difference that socialization makes in
the intellectual and medical progress of these girls. This is the
mission of "Break Through 4 a Buddy."
I created "Break Through 4 a Buddy" a 501c3 to provide
opportunities to develop social skills for students and adults with
intellectual and physical disabilities. There are two major areas in
this initiative, first is the school and second is the community at
large. I developed a plan to implement a Titan Buddy Club in my high
school and presented it to my principal and recruited friends to
become officers of the club. I made a presentation for club rush and
over 150 students signed up to be a Titan Buddy. The club sponsors
monthly social activities designed to integrate our special needs
student population. These activities include game days, Christmas
parties, animal shows and special guests such as Miss Kentucky. To
raise funds, I hosted a prom fashion show at our school. Club
members sold tickets, modeled, emceed, ran sound and lighting, and
provided entertainment. We actively involved our buddies in these
activities. The club members and buddies appeared on a local news
program to promote our event. Our club has raised over $3,000 to
support "Break Through 4 a Buddy" and the Children's Miracle
Network. Community events include monthly activities at two area
living facilities for adults with intellectual disabilities and
delivering meals to families with a disabled member. Our club also
supports organizations in our community who serve those with a
specific diagnosis, such as Down Syndrome Louisville, by
participating in fundraising and volunteering. I am currently working
with the Simpsonville City Council to update our city park playground
to meet ADA standards and provide a place where children of all
abilities can play together. To date, I have secured $80,000 in
grant monies for this project. To increase community awareness, the
Mayor, and the city council made a proclamation for March 12, 2016,
to be the first "Break Through 4 a Buddy" day.

The biggest challenge I have faced is gaining the initial trust of
families of students with disabilities. They are rightly very
protective of their child and aren't accustomed to persons desiring
to have social contact with them. There is an initial period of trust
building that has to happen. My greatest reward is seeing growth in
my personal buddies speaking skills, abilities to participate in
larger groups of people and a greater understanding of appropriate
social interactions.