Name: Minerva Ho
From: Colorado Springs, Colorado
Grade: 11th
School: Colorado College
Votes: 0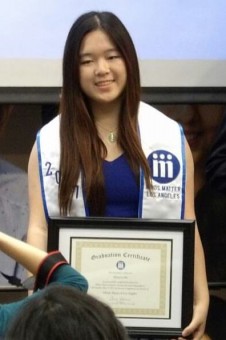 Minerva
Ho
Budding
Hope
As
I volunteer at Nikola Tesla Education Opportunity Center, I am
reminded of how fortunate I am to have made my dream of attending a
prestigious 4 year college a tangible reality, and of my intrinsic
duty to help similarly underprivileged students who lack the
resources that inform them about post-high school options.
Every
Thursday of the school year I volunteer at this high school for two
hours, being a mentor and friend for a classroom of about fifteen
students. Because it is such a small group of students, who run on
the trimester system, it allows me to cultivate a deeper connection
with them. This program emphasizes the importance of what the
students want, so they are given surveys to rank what they are most
interested in learning about: college, trade school, military, work,
and so on. Then, me and my fellow volunteers will create and practice
presentations that cater to that particular classroom's interests.
I
always saw myself as a quiet leader who stayed in her introverted
bubble and subtly helped people from there. The idea of me standing
up in front of people to confidently explain various topics and then
carry conversations further elaborating on them, did not seem
plausible to me. It took time and practice for me to comfortably
engage with the students, and vice versa, but as the weeks progressed
so did my confidence in myself as an interpersonal leader.
Sadly,
these students are seen as nothing but hoodlums by teachers and
staff. These adults, who should serve as support and examples at
school, carry prejudices against students based off of grades and
classroom behavior. There is little care about students'
family/personal situations. As a low income first generation college
student myself, there were definitely personal and financial barriers
I had to recognize and overcome in order to be the person I am today.
These students are such bright and down-to-earth individuals, it is a
shame more people do not give them the opportunity to display those
traits. Beyond being a mentor, I truly enjoy being the listening ear
and encouragement for these students who deserve better treatment and
energy. Anyone can grow and thrive with the proper support and
mindset.
The
budding hope students have in a successful post-high school career
after each of our sessions is forward-looking because it illustrates
how proper resources and encouragement can bring to the light an
ambitious generation. Previously being a high school student who
developed from the support of a non-profit organization that helps
low income students towards a 4 year college, to now being in the
mentor position of similar responsibilities, I wish to continue
raising awareness of the potential that can be fulfilled if
underprivileged students were just given the chance, and one day take
this notion to an international scale–helping underprivileged
students all over the world realize and exercise the potential they
have to be successful.