Name: Victoria Pedersen
From: Omaha, Nebraska
Grade: 10
School: Millard South High School
Votes: 73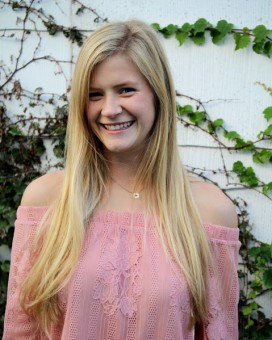 The fall of my junior year, I had just returned from a mission trip where I'd
spent a week doing home repairs in West Virginia. I was so
overwhelmed with the impact serving others had on me, that I began
looking for more service opportunities. That month, I got an email
from the children's pastor asking if I was interested in volunteering
to teach Sunday School each month. I was eager to help, and asked if
I could volunteer biweekly. Later on, I was asked if I wanted to
volunteer three times a month instead of two, and I jumped at the
chance. Over the past year, I have spent roughly 60 hours working
with the group of third graders
On Sunday mornings, I sit at church in a classroom and read over my
lesson plan for the morning. When the kids arrive, some enter with
beaming smiles and excited hellos. Others ignore me and complain that
church is dumb and they want to go home. Though seeing the kids who
get excited to see me is wonderful, I love them all the same.
             Each week I teach the lesson for the day through games, stories, and various
activities, and watch as their minds engage. I see the actions and
attitudes of these kids slowly begin evolving as over the weeks they
speak of kindness, learn about the importance of respect, and read
stories about fairness and treating others equally.
Each time this happens, I realize that this is why I volunteer, to
see my actions truly improve the lives of these kids.
On one of my first days of teaching, the third graders were particularly wound up. A boy
walked up to me and said in his sing-song voice, "You don't have
control over us!" It was then I realized I would never be a
teacher, but it was also then that I realized I loved making a
difference in people's lives, even the lives of rowdy kids. Keeping
the kids constantly engaged has definitely been my biggest challenge,
but a fun one. As a high school student, I benefit from being seen as
both friend and teacher. I am someone these kids look up to, and that
motivates me to truly be the best influence I possibly can be.
This experience has shown me that I want to spend my future challenging the way people
think. While I have yet to find out how I will do that, the passion
is there, and I think that is the most important part. These kids
have taught me to be forward looking, to take my focus off of myself
and direct it towards someone else. Because of that, not only have I
learned about my desires for my own future of being a positive light
to those around me, but I have taught these kids what it means to
have character, something that will go with them forever, and impact
the people in their own lives.