Name: Benjamin Amrod
From: Liverpool, NY
Grade: Sophmore (Now Senior)
School: Liverpool High School
Votes: 55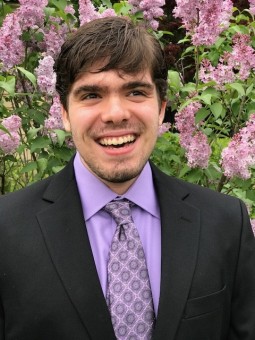 Hi. I am Benjamin Amrod, a volunteer at Syracuse Homes- a nursing home in my community.  I volunteer here because it provides me the opportunity to help people and obtain experience in healthcare.  I would like to become a nurse, and the healthcare environment seems like a good fit.

I have volunteered for 4 sessions- two hours per session.  I volunteer during "Happy Hour," to get residents to concerts and back.  I also give them company while they listen to performances.  My biggest challenge is connecting with the residents.  Some I feel an instant connection with; others are distant or unresponding.  One time I was called a demon by a resident because I couldn't vote for her.  She is usually pretty nice to me, so this came as a shock.

My biggest source of satisfaction volunteering is getting people where they need to go.  I also love it when I am able to build friendships with the residents.  I don't want to just be the guy that transports them, I want to be their friend.  I want them to know I am there for them, and I care deeply about their well-being.  My biggest fear when I transport residents is accidentally hurting them.  Fortunately, this has not occurred.  Only an occasional bump onto a rug or such.  I have learned being in the medical field requires patience and delicacy.  I sometimes lack these traits, but I feel when one has something greater to think of than oneself, one's better side shines.  I don't want to let the residents down.

I would say my activities are forward-looking because they will help prepare me for the field I am going into. Forward-looking means preparing for the future.  I hope to help foster a world where people not only receive healthcare but empathy and kindness.  We have a shortage of nurses in our country.  Along with teaching, nursing is one of the most important careers for our nation.  It helps people maintain well-being physically and emotionally.

If ten years from now, I were to look back on what I did volunteering, the difference I would hope to see is I helped make the last few years of these people's lives more enjoyable.  If they did not have people to assist them from place to place, their lives would be less happy and more boring and sorrowful.  I know boredom is one of the worst things to deal with, and I imagine it is even harder on people who cannot get from point to point alone.

My time in volunteering has made me understand the need for people to go out and connect with the community.  It is very easy to get wrapped up in oneself.  It is much better for the heart to share it with others.