Name: Simran Chopra
From: La Puente, CA
Grade: 9
School: Nogales High School
Votes: 436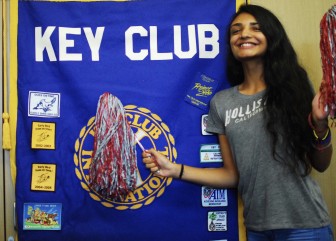 Simran
Chopra
October
6, 2017
Caring
Is The Way Of Life
Martin Luther King Jr., a man that has greatly inspired me, once said,
"Life's most persistent and urgent question is, what are you
doing for others?" When I heard this phrase, I seeked an
opportunity to join Key Club on my school's campus, and it has
impacted me greatly till date.
To me, Key Club is not just another organization dedicated to community
service; it is my high school family. My commitment to Key Club
increased when I gained the position of Secretary. Our club has
attended multiple local park clean ups, a beach clean up, and
participated in several service events over this past summer, when my
commitment significantly increased. Our club has participated in
making socks and dog toys, which were donated to a local children's
hospital and animal shelter. Our club has also participated in
helping our school's library during registration week and giving
around 1,000 students the books they need for the school year.
My home club does not have a specific area of interest. We believe in
giving back to our community in any aspect possible. I take every
opportunity in which I can help someone, whether it be helping a
classmate with a math problem, or organizing a fundraiser within my
home club for a cause.
Key Club has been a major component of my high school years so far. Key
Club has influenced me to individually raise $150 for an organization
named Thirst Project. I am currently applying to CIEE to become a
high school global navigator to travel to Thailand during the summer
of 2018 to perform service towards environmental awareness. I am also
looking into a career of community development.
If I was asked to define "forward looking", I would define it as
planning for the future and progressing. I see my volunteer
activities as "forward looking" because Key Club has helped me
find myself. My self-confidence has boosted with every club meeting,
and with every new person I have met at club events. I have
discovered that every time I help someone, I become happy and
satisfied. My volunteerism contributes to the person I will be in the
future, and I wish to continue volunteerism for as long as possible.
If I were to come back in a few decades, I would definitely think my
volunteer activities made a difference in my life. When I look back
on my high school years, I will always remember the times I spent
helping others. Our Key Club sponsors, called the Kiwanis, have been
with Key Club for many years and have been dedicated to volunteerism
since they were in high school. That only further influences me that
community service is always something that will be there for me,
through the good and the bad. Throughout the next few years, I wish
to continue self-discovery through the process of losing myself in
the service for others.