Name: Bryan Alejandro Nataren Barahona
From: Lafayette, Indiana
Grade: College Freshman
School: Ivy Tech Community College
Votes: 0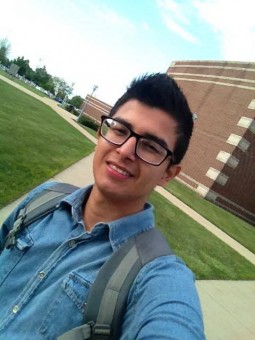 Change a Life to be Changed
By
Bryan Nataren
Someone, some time, somehow, changed our life, so: why not doing the same? We
all have been benefitted from other's goodness and know how it
feels like to be appreciated by other's care. As a child, I found
myself aided by the sake an old man in school. My parents had little
money to keep me going to school and were thinking on quitting on it.
Finances in the family were not good and they could not afford a
bilingual school in Honduras, my homeland. Since I was a
Valedictorian at school, the rector decided to pay half my tuition as
long as I attended that same school. That impacted my life. When I
graduated high school (in a different school), the rector asked me if
I wanted to volunteer to serve as a teacher at a school located in a
remote area in Honduras. I saw a chance of sharing what I had
received before: education. I did not hesitate and two months later
started my journey to a small community with no more than 200
inhabitants up in the mountain in Honduras.
My job was teaching English as a second language to kids. I was a
homeroom teacher for fifth grade for three years, teaching ESL
subjects as Spelling, Language and Reading. I also taught subjects as
Math, History and Science in English, since it was a bilingual school
and acquaintance with English was important. I also taught Basic
French from Kindergarten to sixth grade. My roles were to plan,
teach, give and grade assignments, quizzes and tests. We also
promoted Bible study. More than a full-time job, it was a lovely
experience. As a teacher, I basically had a starting time but no
ending one in a regular day.
As a teacher, I had to face challenges and the biggest one occurred when
one of my students flunked and had to repeat fifth grade with me. The
year after, I expected it to be a rough year for him. It was not. It
was his best school year. He exceeded my expectations and made me
feel very proud when he told me before school year was over, ''when
I grow older, I want to be somehow like you''. Big compliment for
me just being 19 years old by then. Looking his improvement that year
was my greatest satisfaction. Volunteering taught me that my passion
lies in education.
Volunteering as a teacher aligned with my purpose of being a Math major. I look
forward to engage in education again as a professional or volunteer.
Looking forward for me means planning ahead and visualizing our fate.
Nelson Mandela once said, ''Education is the most powerful weapon
which you can use to change the world''. I believe and hold on to
that statement. I look through education an overwhelming change in my
homeland on the coming decades. The nation would be prosper, blooming
and intellectual through education. Just because someone, some time,
somehow said: yes.