Name: Olivia Hawkins
From: Amelia, Virginia
Grade: 10th
School: Amelia County High School
Votes: 0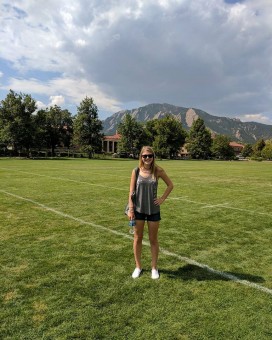 Olivia Hawkins
Changing the Environment

I was fortunate enough to volunteer as an Earth Team Volunteer at the
United States Department of Agriculture- National Resource
Conservation Services. This volunteer service primarily deals with
conserving the environment. I have been an Earth Team Volunteer for
three years, and I serve my community when I can therefore I have
around 70 hours with the program. I have been responsible for
assisting engineers on wetland conservation, setting up booths at the
Virginia Ag Expo, as well as leading other volunteers when
volunteering in offices. My greatest challenge was at the beginning
of the job, when I was overcome with anxiety over the new information
I was learning. I felt more successful when teaching farmers about
soil science. I felt as though I was truly helping my community. I
have learned about soil science, wetlands, and the importance of
saving the environment.
I believe being an Earth Team Volunteer is forward looking because it revolves around
protecting the environment for generations to come. Forward looking
means practically planning for your future in my opinion. I hope to
change the way people view the environment as well as farms. Farms
are a way of survival for the world, but there are many things that
can cause destruction of farms. USDA-NRCS uses their abilities to
protect these farms and aid farmers. I believe I have made a
difference in farmer's education as well as how some of my peers
view farming and the environment.