Name: Hannah Misyak
From: Farmingdale, New Jersey
Grade: 10
School: Howell High School
Votes: 0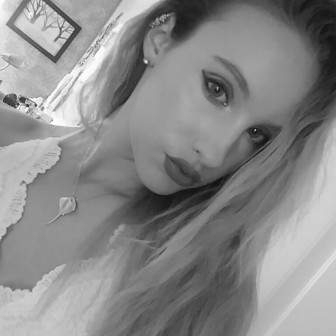 One frigid morning in February
when the snow covering the ground was still shimmery and pure, I
recall being bundled up with my bulky, onyx jacket as I cautiously
opened the door. "Here Kitty-Kitty, here Kitty-Kitty. It's okay,
you don't have to be afraid." I offer these words in a warm and
gentle tone to the shelter's newest arrival, a black and white
tabby named Ethel. I try to lure her from the shadows of the blue cot
where she is hiding. After about thirty minutes of using a tender
voice, Ethel finally eases her head out from her hiding spot. All my
talking and motioning for her to come out for the past half hour has
proven successful. She cautiously eyes me up and down. Before I know
it, Ethel is out rubbing her tail across my back, letting me pet her
without fear, making it apparent that she now trusts me.
Since
I was very young, I have had an immeasurable passion for animals. As
a result, every Sunday since December 2016, I have been volunteering
three hours at Rescue Ridge, a no-kill animal rescue. Through my
experiences, I have learned that it takes a lot of patience and an
understanding personality to work with shelter animals. Most of them
are scared and confused as to why they are in a shelter and not in a
loving home. The hardest part about volunteering with these rescue
animals is gaining their trust. Performing duties such as feeding,
cleaning, and caring for the cats are the easy responsibilities.
During
the time I spend at the rescue, I set aside time to play and
socialize with the animals to help them trust people again in hopes
that they can get adopted. I have found that whole experience has
been truly satisfactory and rewarding knowing that I am making a
positive difference in their lives.
Through
my volunteer activities, I hope to take what I learned and apply it
to my career goals. Additionally, I am striving to help bring
awareness to the cruelty of kill shelters, as well as to inform
people of the true commitment of owning a pet to change the number of
animals being dumped on the street. To me, forward-looking is
anticipating and planning for the future, and what it will bring the
world. Because of my love and compassion for all living things, my
ultimate goal is to become an Animal Physical Therapist wherein rehab
and training would be a substitute to expensive surgery. This career
choice is forward-looking itself as, few practices exist in the
United States. I believe that Physical Therapy for animals will be a
great alternative and, it will also be immensely less stressful on
the animals. If I were to return in several years, I believe that my
volunteering would have made a difference. By me raising awareness I
would have saved at least one animal's life. To them, that would
make all the difference in the world.