Name: Casianna Little
From: Euless, TX
Grade: 2015-1016: 10th 2017-2018 (Current Year): 12th
School: Trinity High School
Votes: 0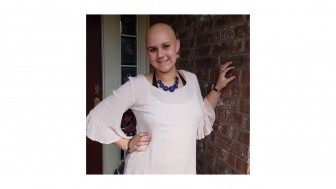 Changing the World One Corner at a Time
My participation in volunteering started in pre-school. My parents'
advice to my family has always been, "While we may not be able to
change the whole world we can change our corner of the world. If
everyone does this then the whole world will be changed." This
mantra has encouraged me to give thousands of volunteer hours
throughout my life with many different organizations.
In 5th grade I developed a condition called alopecia
areata. It is an autoimmune condition in which my body stops making
hair. While it does not affect my health the end result is that I am
bald. Obviously, this is a difficult situation to accept, especially
for a young girl. My church and my faith made this process much
easier. Since I have lost my hair I have chosen not to wear a wig.
I want the world to accept me as I am. I also want to help educate
the public. Wherever I go I will have at least one person ask me
about my hair, or lack of it.
As I entered middle school I searched for a volunteer path that would
accomplish two goals, educate people about alopecia areata and help
people build a strong spiritual foundation. My choice was to give
back to my church community by developing the spiritual life of the
youth as a youth mentor and leader. I realized that by choosing this
path I could impact my world multiple ways. First, I could help
children build the same foundation that I depended upon. They will
need this foundation as they navigate through the difficulties they
will encounter as they work their way to adulthood. Second, I can
teach them about tolerance and acceptance. My baldness provides
the opening to teach them this lesson. They can learn through me
that everyone is different and should not be judged by their outward
appearance. Church youth normally volunteer with other community
organizations. This is the third reason I chose this path. I can
give back to both my church and my community at the same time. This
widens my corner of the world allowing me to have a bigger impact.
Now I can help even more people and I can teach more people about
tolerance and acceptance.
You cannot volunteer without getting something in return. For me it
has been life skills. I have learned how to time manage. I love
volunteering and I give a lot of hours each week. However, I had to
learn how to juggle my volunteer time with my school and other
extra-curricular activities. This was my biggest challenge. I also
gained important leadership skills. Leading youth that range from
elementary school to high school you learn how to relate to them
while still maintaining a leadership position.
Over the years I have interacted with thousands of youth. My hope is
that they too have learned the importance of volunteering and
changing their corner of the world. This has become my mantra and
volunteering will always be a part of my life.