Name: Hannah Ortman
From: Redmond, Oregon
Grade: 10
School: Redmond Proficiency Academy
Votes: 31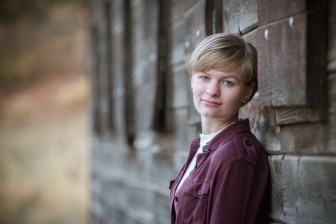 For three school years, two hours a week, I volunteered for AWANA (stands
for "Approved Workmen Are Not Ashamed," taken from 2 Timothy
2:15), which is a Christian nonprofit organization. Their mission is
to help "reach kids, equip leaders and change the world for God."
I chose it because I was part of the program for many years, and I
love kids and want to make a difference in their lives. For two
years, I was a leader and assistant game director. The third, I was
game director for the preschool group – my favorite by far. This
responsibility meant single-handedly coming up with games for a group
of forty toddlers to play. My biggest challenge was creating
entertaining games for these high energy kids. Red light/green light
became a favorite, especially when I added other colors like blue or
pink. Getting every kid to listen was difficult, but they respected
me, and eventually everyone froze when I yelled "RED LIGHT!". My
most satisfying moment was when the kids shouted my name excitedly,
and tackled me with hugs. From this experience, I've learned so
much about how to gain the respect of children. Sometimes, I had to
be a little firm to get the kids to stop running around like mad
chickens, but by the end of the year they would wait quietly for me
to give the first light color, and still love me the same. This was a
great opportunity for me because I want to teach elementary school.
Being in charge of a large group of children is what I will be doing
someday, and now I've had that experience.
To me, "forward looking" means that what is happening now will be of
importance in the future, and volunteering with these kids is like
that in how I hope to have impacted their lives. They may forget me,
but I hope they will remember the fun times they had at AWANA and
continue in the program. Even if they do not come back, I hope they
remember AWANA in a good way because of game time. I want to impact
the life of every kid I work with, and although playing red
light/green light with a bunch of toddlers may not seem very
significant, I think it is. I don't know what is going on in the
lives of every child – maybe they do not have the greatest of home
lives or have gone through some hard times. So I always try to show
each kid that I care, and bring them happiness too. If I came back
many years from now, my volunteer activities might not seem to have
made a difference. However, maybe one child continued in AWANA
because of me, and became a great Christian. Maybe one child made a
friend during game time. Maybe one child simply had a happier day.
Red light/green light may not change everyone's world, but maybe to
one kid, it changed theirs.