Name: Caitlin O'Leary
From: Port Isabel , Texas
Grade: Sophomore
School: Port Isabel High School
Votes: 0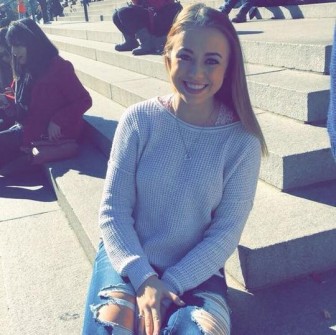 I've
always enjoyed being around children, however, it was during the
summer
approaching
my sophomore year of high school l when I discovered that I truly had
a
passion
for helping them.
It
was during this time that I began volunteering at our local Boys and
Girls Club. On my first day, I noticed that many of the young girls
knew my name and who I was. I could hear
them
whispering, "OMG, that's the cheer captain". Being a
cheerleader, I didn't completely realize how much these children
looked up to us. It was heart warming to know that these girls wanted
to be like me. This drove me to start a cheerleading program and
become a youth ambassador. I was amazed to see how many girls signed
up to be on the squad. Within a few weeks, enrollment for this
program tripled, and still continues to grow today. I taught them
routines,
which they performed during half time at the club's basketball games.
Seeing the smiles on their faces while the crowd cheered, proved to
me that I was making an impact on their lives. I encouraged these
girls to do their best in school and be positive role models like all
cheerleaders should be. I think of these girls as my family now and I
am blessed to be working with them. Working with children, and being
a mentor, friend, and role model to them, is
something
that gives me great satisfaction. Knowing that I am making a
difference in their lives not only gives me purpose, but makes me
want to be a better person as well. Although these girls call me the
"teacher", what they have taught me is that it is truly better to
give than to receive.
I
have worked with these girls twice a week for about an hour and a
half per session since my sophomore year. The most difficult
challenge I have encountered is leaving these girls behind after
practice. I have had a few of them cry and ask me not to leave. It is
heartbreaking to know that many of these girls are leaving the club
and going to a house with adverse conditions. The snack they receive
before leaving the club is the only food they will eat before
receiving the school's free breakfast the next morning.
After
working with these children and discovering my true passion, my goal
is to become a Pediatric Oncologist. "Forward looking" to my
future career dreams, I will need to be the biggest "cheerleader"
out there for these children fighting cancer.
I
would like to encourage my peers to give back to the community.
Giving back a part of yourself to someone less fortunate is something
that I would like to see more people doing. I do believe that my
volunteer work will make a difference along the road, and I am
hopeful that some of these young girls that I coached, will turn
around and do the same for others.