Name: Soshana Chavez
From: Broken Arrow, OK
Grade: Junior
School: Northeastern State University
Votes: 0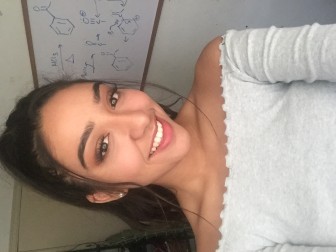 I'm a biology/pre
med major, and most people would think I would have chosen to
volunteer at a hospital, but my heart has taken me onto a different
path. I spend most days volunteering for a children's shelter home.
I've spent about 20 hours per week, each month, for the past year
of my time here. I devote my time as the assistant arts and crafts
teacher. I search on pinterest or blogs for different crafts the kids
can make that are applicable to their age group and have an
educational part to them. The most challenging part about working
with children in a foster home is that almost all of them have really
bad behavioral issues. They've gone from home to home and have had
no stability. This has affected them severely and it shows in the way
they act out. I've had my hair pulled, been spit at, spoken to with
foul language, and kicked. There have been days where it seems
impossible to get through a lesson. I've become attached to all of
them and realized that I'm the most important person they have; the
person they get to see everyday. Seeing there eyes light up when they
see you is what makes volunteering here so satisfying. I have a
weekly routine of always asking them what they want to be when they
get older. I hear a variety of answers like Spiderman or a princess.
They are constantly reminded that all things are possible with hard
work and dedication. Being here for a year has taught me that these
children are our future. We have to do what we can to take care of
our kids. I've also learned how to control kids with different
disabilities. I've worked with children who have autism, speech
impediments, schizophrenia, ADHD, and other mental illnesses. I've
learned how to cater different activities for those who suffer from
these disabilities. I hope to open up the creative minds of the
children. It's creativity that lets them imagine, that allows their
minds to shape things that are not present, which do not exist and
what we never have experienced. This creativity can be used in any
subject, whichever they wish to pursue, whether it be science or
literature. Forward looking means no matter how difficult life may be
at the moment, if you have the dedication, you can overcome these
challenges and create the life you wish to have. I hope that the love
I bring to the foster kids keeps them on a path to a better life.
Children need love to be able to grow into a healthy adult, and maybe
one of my kids from the shelter will be the one who discovers the
cure for cancer. I definitely feel as though my time and work here
would have made a difference. It would have made these kids not feel
so alone. I want them to know they'll always have me no matter
where life takes them.