Name: Neale Matthew Enriquez Nicolas
From: McAllen, Texas
Grade: Sophomore
School: Harvest Christian Academy
Votes: 0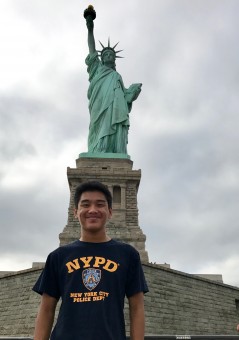 Neale
Nicolas
10-11-17
Scholarship
Youth
Forward
Youth
Forward Scholarship 2017
———————————————————————————————————————
Church
Volunteer
The area I have chosen to volunteer is one with spirituality and
Christian beliefs, where we all believe in the one and only true God.
The reason I chose it is because to me, God chose me for the job of
becoming a church volunteer there. To me, it was very special to be
chosen as a church volunteer, as they gave me a leadership position
there, which to me was very important, as it was my first ever
leadership position I am taking in my life. I helped at the church
every Sunday for a year, spending 2-3 hours each Sunday of that week.
My responsibilities there was to lead the youth group to get where
they are supposed to be with God. I helped by leading them into
prayer, and helped them understand what the Bible is and what it is
about.
My biggest challenge as a volunteer was when I just barely started being
integrated into church leadership for Vacation Bible School. I didn't
really know what to do back then at the time so to me, literally
having little to no training, it was hard to lead children into
worship, but somehow, I did my job right. The most satisfying part of
the job, was when I did of course, like I said, lead them to worship,
despite it being hard. I always love to see the children's faces in
joy whenever they have fun at church. What I learned from my
volunteering position, is how to get closer to God and how to listen
to God. I learned mainly, how to have a better personal relationship
with Him.
Maybe my interests to becoming an FBI agent doesn't seem like they align
with that volunteer focus, but the volunteer focus did inspire me to
have high standards for myself. The volunteer focus helped me gain
confidence in what I want to do in life, so no matter what, I always
I want to go higher because of that. Looking back, loving everything
about my volunteering duties, I now am "forward looking" to
the day where everyone is saved and genuinely believes in Jesus
Christ. "Forward looking" to me, is when you look forward
to the future benefit of your interests and beliefs. The changes I
seek to foster to the world by my volunteering activities, is like I
said, for everyone to genuinely believe in Jesus Christ. If I were to
come back in ten years, I believe my volunteer activities would have
made a difference. I believe they make a difference because you
change the people heart's from bad to good, and everyone loves to
hang around good people. The more good people in this world that
exists, the better this world becomes, and the better this world
becomes, the more where serving for Jesus through volunteer
activities would have made a difference.