Name: Daisy Hutt
From: Sharon, Vermont
Grade: Junior in highschool
School: University of Vermont
Votes: 0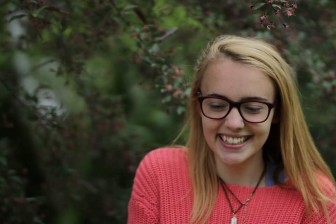 As a high school student, a graduate requirement for each of my four years was forty
hours of community service. As a result, I have over 160 hours of
service under my belt. Each submission required a reflection of what
organization I worked with and why it was important to me, which
encouraged a deeper understanding of what volunteering means. At
first, I participated in one-time projects like wood stacking that
would fulfill my hour requirements. Overtime however, I found
opportunities like running a cooking group at an elderly home that
allowed me to grow meaningful relationships and gain experience.  In
my first semester at the University of Vermont, I participated in a
programmed housing called the Dewey House for Community Engagement.
Essentially, this program enabled motivated first-year students to
work together to impact the greater community and make a difference.
A minimum of 40 hours of service are required for this housing, as
well as a one-credit class to teach us about integration of community
engagement and service work in our everyday lives. Through my
experience with all of this service work, I have learned to
appreciate the importance of giving back and recognizing my
privilege. As a white cis-gender woman living in Vermont, I have an
integral advantage in most aspects of life, which is what gives me
the option of using my free time to help others. I believe we all
have a duty to use whatever advantages we are granted in order to try
and bridge the gap between whatever "us" and "them" may exist
locally or globally. It is also important to realize what we can
learn from those we are helping. Volunteering is always a two way
street and when we don't acknowledge that issues such as
voluntourism and self gratifying work arise, which can turn into
deeper issues like the white savior complex. From working with mentor
programs for underprivileged youth to knitting hats for premature
babies in the ICU, I have learned what it means to be a volunteer and
I know that I have been helped by the people I work with just as much
as I have been there for them. I have plans to continue engaging in
community service in the future, mainly with mentorship programs, but
more importantly I want to continue to facilitate conversations about
what healthy and helpful community engagement really means.