Name: Elicet Farias
From: Pahrump, NV
Grade: 11th
School: Pahrump Valley High School
Votes: 9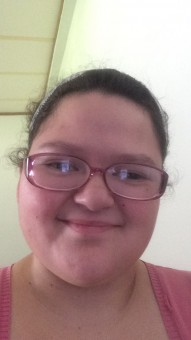 Essay

While
I was in high school, I participated in two clubs/organizations. I
was in key club and we would participated in the Halloween party that
was in the auto plaza in my hometown. The day before of the Halloween
party, we helped the workers setting up the place with all the
Halloween decorations. The next day we finished up with the
decorations and we were told to hand out candy as prizes for the
kids. In December when we did the bell ringing, we also helped raise
money for the kids to get clothes, shoes, toys and any other items
that they may need since they don't have a home.
In
the spring time we helped sell food at a concession stand while
everyone was outside playing soccer. And we were helping a church
group hand out water to people that were arriving and later we were
helping serving the food that they made. At the end of each school
year, we always participate in the relay for life to support those
that had cancer and that were currently facing cancer. All the clubs
in the high school participated in the event to support and were
raising money for treatment.
I
was in key club during my junior and senior year of high school and
it helped earn I'd say around 20-30 hours of community service, it
also helped me grow and allowed me to speak up more because I am
always a shy person.
Also
during my junior and senior year of high school, I participated in
the Jobs for America's Graduates (JAG). When I was in JAG, we also
planned out our community service we had a lot of bake sales and two
car washes, and all the money raised went to our field trips, we had
a mosh ball tournament to raise money for a cancer victim that
unfortunately passed away this year.
The
1 year that I was in JAG, we sent to the symphony animal shelter to
support the animals and help the owners redecorate the building. We
also helped raise money for the animal shelter and helped them take
care of the animals. While I was in JAG, it helped m earn 20 hours in
the 2 school years of community service. The program has helped me
grow into a more responsible young lady and become more confident in
myself.

When
I started in the program in my junior year, I was very silent and I
didn't get out of my shell as time went on I started to get out of
my shell and spoke out more often.