Name: Zack Jensen
From: Reno, Nevada
Grade: Sophomore
School: Damonte Ranch High School
Votes: 0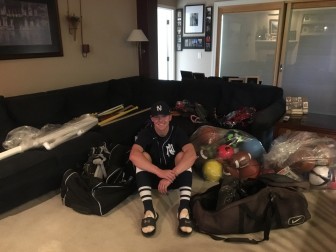 Compassion
Equals Fulfillment
Zack
Jensen
Ever
since I can remember, I have volunteered every holiday season in
schools filling bags with food and wrapping gifts for needy children.
I have never seen their faces, but I can picture their smiles on
Thanksgiving Day, as they eat a bountiful meal and on Christmas
morning when they are surprised to receive their wish. I started
volunteering in the classrooms, reading to children and helping them
during centers with math and spelling, as well as helping set up for
carnivals and dances. The hours have varied, depending on the
volunteer work, but it is the easiest thing to do because of the
sense of fulfillment helping others brings. However, it can be
challenging because it is impossible to help everybody in need.
Although I have enjoyed volunteering in schools, I am most proud of a
recent endeavor I organized to help youth outside of my community.
Hurricane
Harvey had a huge impact on our country. I wanted to touch other
children's lives in some manner. I knew that many kids in Houston
lost all of their gear. I collected hundreds of pieces of sporting
equipment, got in contact with the Houston School District, packaged
up the equipment and sent it to a high school and elementary school.
When I'm playing baseball, I think of nothing else, which was my hope
for these kids. I wanted them to be able to forget about their losses
for just a moment, while playing the sport they love. The
satisfaction I felt while participating in this community service has
been rewarding, so I am now collecting food donations for the
Community Outreach Program. My love for baseball has helped define me
as a student athlete, as well as a contributing member of my
community. "If you want others to be happy, practice
compassion. If you want to be happy, practice compassion."
Looking
forward, compassion and volunteering will always be a part of my
dash. How anybody decides to live their dash is up to their
discretion, but for me, my dash will include a college education, a
career in kinesiology where I can continue helping others, spending
quality time with my family and friends, and volunteering in my
community and beyond. Linda Ellis refers to the dates on our
tombstone when describing our dash; the day we are born – the day
we die. The dash represents all of the years we were alive between
those dates. So, when people speak of my dash, I want my loved ones
to be proud of the path that I chose. I have learned from
volunteering that when we can practice social and emotional skills
with others and create connections, then we have meaning in our lives
and can face challenges head on. The connections I have made with my
family, friends and community have made me who I am today. My
volunteer work has made a difference for others, but it also has made
me a better person for it.