Name: Shelby Leigh Perlis
From: Bakersfield, Calfornia
Grade: 10
School: Frontier High School
Votes: 0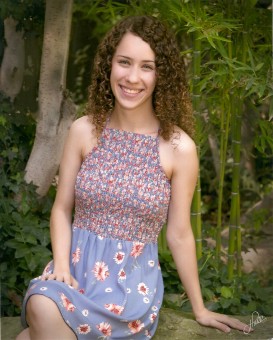 I've been a proud member of Girl Scouts for over ten years. If Scouts has
taught me anything, it's how to be an active member in my community.
Over the years I've organized drives, collected donations,
recruited kids into programs, and much more. The first time I truly
felt connected to my community, however, was when I completed my Girl
Scout Gold Award- the highest honor a Girl Scout can earn,
approximating 50 hours of service to one sustainable project.
Mental health has always been an important topic to me, as I've watched
children/peers grow up with unresolved issues and struggle to find
success. Knowing I had an opportunity to make a difference, I chose
to target children facing traumatic experiences and found a way to
help them heal. Research suggests that soft comfort items can
significantly decrease the effects of childhood trauma. I raised over
$900 which I used to collect 131 new stuffed animals and handmade 66
blankets. I personally fundraised, bought supplies, communicated with
volunteers, built a team, held workdays in my own home, and set up a
delivery day once finished. The finished comfort items were then
donated by my team and myself to the Kern County Sheriff's
Department, who keep the items in their patrol cars to distribute to
children that come into their care. I began my project in the summer
of 2016 and finished by March of 2017, going beyond the required 50
hours, and these months allowed me to truly craft a team and project
I'm proud of.
This project brought me into contact with business owners, law enforcement
members, and people from all over my school district, making me feel
for the first time that I was playing an active and positive role in
my community. There may have certainly been challenges along the way,
but these challenges only helped me grow. My biggest challenge was
learning to make the blankets themselves, as blanket-making was a new
experience for me, but this taught me to always be prepared and ready
ahead of time. Not only did I learn how to lead and unite a group of
individuals under a common cause, but I provided a support system for
children in my community for an estimated ten years to come, which is
the greatest satisfaction of all.

            I truly consider my project forward looking, or beneficial to
my/others' future. Not only did I gain skills to better my own
future, but a generation of children was allowed to heal and live a
better life. I'm confident this project taught my community to be
attentive to mental health and children's needs. Best of all, I
truly believe that this project made a difference in my community,
and that years from now, someone will be able to say they're living
a better life because of the security I helped provide. This project
has encouraged me to continue taking an active role in my community,
wherever I may go in the future.