Name: Oria Daugherty
From: Fairfield, OH
Grade: High School Junior
School: Fairfield High School
Votes: 78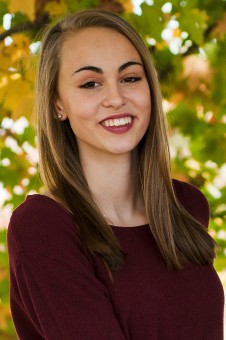 Creating
Change Across State Lines
Oria
Daugherty
Each summer, I have driven hundreds of miles to spend a week sleeping on
high school classroom floors, in a state that is not my own, with
people I have never met. Why? To see the smile on a person's face
when they see their home surrounded by a new fence, or a freshly
painted porch. Ask any of the hundreds of youth that attend one of
these events each summer, and I'm sure they'll agree.
Group Work Camps is a program that gathers hundreds of youth (and adult)
volunteers into areas of need around the country and the world. I
have had the privilege of attending 5 of these camps over the last 5
summers. Youth are sorted into groups of others that they do not
know, and assigned a project for the week with a resident of the
area. Over the past 5 summers, I have assisted with a wheelchair ramp
construction, interior and exterior painting, porch repair, and lots
of additional small projects to help our residents. We work about 30
hours over the course of the week, and develop strong relationships
with our residents and the other campers. The residents are often
elderly or veterans, and most could not afford these home repairs. We
as volunteers bring the materials, dedicate our time, and donate our
money to give hundreds of people across the country safer and cleaner
homes. Not to mention, it spruces up their neighborhoods!
These experiences have exposed me to people from all walks of life, both
the other campers and the residents. I have learned so much about
other cultures and beliefs, as well as seen firsthand what poverty
looks like—and how ambiguous it can be to those on the outside.
Most of all, I have seen the positivity and joy that can come from
small acts, from constructing a ramp that will allow someone to get
safely to their home, to taking lunch to the house across the street.
I believe that change is made by one person at a time, through one
act at a time. I have personally witnessed the change that occurs
over the week in residents; many of them view this week as a turning
point, or a fresh start. They gain a sense of pride in their new
homes that might have been lacking.
Overall, volunteerism has shown me that individuals can create change in the
world, if they have the desire and the drive to do so. Through my
combined interests in environmental advocacy and volunteerism, I am
pursuing a career in environmental work and hope to create change
regarding the sustainability and environmental health of our globe.
After all, anything that we as individuals can do to better the lives
of our neighbors should be done. Those neighbors might be across the
street—but they might also be across the nation.