Name: Natalie Keefer
From: Walnut Creek, CA
Grade: junior
School: Las Lomas High School
Votes: 2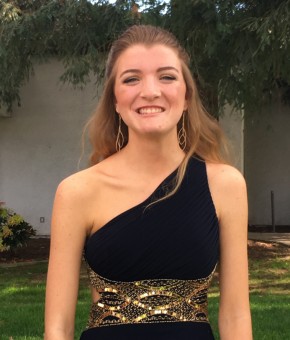 Volunteering to coach youth soccer has many moving parts, but this season, I am shaping the girls
into not only better soccer players, but into better people. At our
practices, we review the basics in soccer (staying spread out on the
field, clearing the ball to the outside, communication), but more
importantly, we review the fundamentals of being on a team. A team is
supposed to lift each other up and and be optimistic. I am
responsible for teaching these 10 year old girls the art of soccer by
coming up with drills and games to play, but I am also responsible
for installing a positive outlook on the world as a whole.
The whistle blew at our first game, and my team played their hearts out.
I watched as the group worked as one, and I was able to observe every
skill we practiced. Unfortunately, my team lost 0-5. I was so worried
that the girls would be upset and discouraged, but, to my surprise,
the girls came off with the biggest smiles. They would not stop
chattering about how proud they were to keep the formation we worked
on in practice and the amount energy their teammates put into the
game. I was in shock.
Absentmindedly, I began to put the goals away, when a group of parents approached me.
How would the parents feel about losing? Thankfully, their words were
filled with praise as they told me how they were incredibly lucky to
have daughters on my team. They continued to commend me for being a
positive influence for these impressionable girls. Many of the
parents believed my optimism was the reason the team was so
high-spirited after the game.
That day was the first day I was able to witness the impact I have on
others. I learned that sometimes, optimism is all that is needed to
improve someone's life. I learned that how I carry myself everyday
and how I treat others will directly improve other's lives.
Leadership isn't always about leading a team to victory, sometimes
it's helping the team stand back up after falling down.
It isn't always easy to stay optimistic and keep a smile on your face
when you work with a large group of little girls. They will test your
patience and, as I discovered, challenge your authority. I learned it
is important to maintain your authority while still respecting these
girls. They may be younger, but that is even more of a reason to
teach them how to act respectfully towards others in times of
conflict. I taught these girls skills they can use for many years to
come and am looking forward to seeing how these girls will grow and
mature from joking adolescents to sophisticated adults, fully aware
that many of them will not continue on their soccer journey. I spend
10 hours a week with these adorable girls, and I believe I have
taught them just about as much as they have taught me.