Name: David Mulligan III
From: Sylvania, Ohio
Grade: 10
School: Sylvania Northview High School
Votes: 0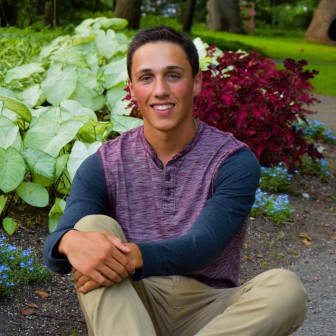 David Mulligan
Dancing
with a Purpose
For the past six
months, I have chosen to devote my efforts to a cause that is very
near to my family, and has had devastating impacts on families within
my community as well as around the world: cancer. Not only have I had
to watch my aunt undergo treatment for the terrible disease; I have
also stood alongside peers, friends, and teammates who have lost
immediate relatives to the same cause. It is for this reason that I
am so determined to help in any way I can.
To counteract the
effects of cancer on my Sylvania community, I collaborated with my
fellow National Honors Society Officers to plan, fundraise for, and
run a six hour dance marathon called DanceGOLD. Essentially, students
at our school pledged to remain on their feet for the entire marathon
in return for donations from friends, neighbors, and relatives; after
collecting these funds – in addition to donations from businesses and
smaller events – we held the event which included fun activities like
volleyball, dodgeball, musical chairs and Just Dance. At the end of
the night, we had the honor of presenting a Sylvania Victory Center
Rep with a check for $19,401.01 in front of over 300 participating
dancers, which she said would help fund their services to
cancer-stricken families for the next year!
Accumulating such a
large sum of money was certainly no easy task. Along with six elected
committee members and the three other officers, I spent a minimum of
two hours per week in our school library for the entire six month
planning period; our tasks ranged from contacting corporate sponsors
and advertising for the event to assigning games and teams for the
marathon, and there were weeks where we would meet every day before
school for upwards of an hour each, simply trying to brainstorm
tactics that would maximize the success of our event. As NHS
Secretary, I had the privilege of being a "captain" at DanceGOLD,
and keeping my team of 75 teenagers engaged for all six hours was by
far the biggest challenge I faced. I was forced to reassure my
teammates on several occasions, but our common goal of supporting the
Victory Center ultimately compelled us to persevere through the
night.
Without a doubt,
presenting the giant check to the representative present was the most
surreal moment of my life; the expression on her face and the roaring
support from our fellow dancers assured me that the long, tireless
preparation was worth it. I was filled with awe and pride for my
community, looking out at all of my classmates, teachers, staff, and
administration as they came together for such a monumental cause.
This event has done so much more for Sylvania than simply fund the
Victory Center; it has set a precedent for future Northview students
to follow, which gives me confidence that my actions as a volunteer
at DanceGOLD will continue to make a difference for years to come.