Name: Natalia Ramos
From: Gilbert, AZ
Grade: Junior////Senior 2017-2018
School: Northern Arizona University
Votes: 0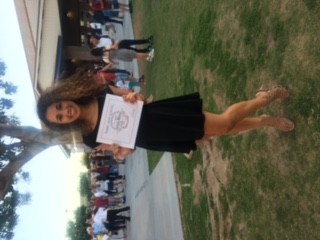 Natalia Ramos
Youth Forward Scholarship
3 November 2017
Deserve to be Loved
I was once told as a young child that everyone deserves to be treated
with respect and love no matter what, but it wasn't until I grew up
that I realized that people don't always get what they deserve. In
fact sometimes it's just the opposite and innocent people suffer. I
experienced this firsthand when I would hear my mother tell stories
about her sister, my aunt, my favorite person in the whole world be
tortured throughout school because she "wasn't like the others".
My aunt Madeline is mentally disabled and has a mild cognitive
disability and has had this since she was born. Hearing stories of
classmates throwing food at her while she sat on the floor in the
corner of the cafeteria makes my heart stop. How could people have so
much hatred towards someone they never even spoke to? Towards someone
that can't help her condition. This created a rage inside me that
I was never able to let go. I have accomplished many things as a
young adult; earned the highest award in girl scouting, have been
apart of the board of directors, maintained a 3.91 GPA throughout
High School, while excelling at my job, having a social life,
spending time with my family, volunteering, and being apart of a
highly competitive dance team for years. Yet the accomplishment I am
most proud of is my many years of being actively involved in the
special needs program at all my schools I have attended. Currently I
am a Peer Facilitator for the Special Education Department and the
President of Puma Pals a club at my school that helps create
relationships with normal high school students and our special needs
students. Some of my most invigorating, special and memorable moments
at my high school were with those kids I call my friends. They always
make me smile, never fail to make my heart happy and constantly
making me laugh. They make me realize what is really important in
life; love. Love is such a powerful thing in this world, but so is
hate and because of that I will never give up on my Aunt Madeline, my
kids and the millions just like them. Especially another one in
particular, named Tony. I hear Tony's story on the radio on my way
home from school one day and I could not control my emotions when I
heard about the happy ending. Tony has autism and is the smartest and
coolest kid you will ever meet. This coming year Tony is turning 10
but yet again he dreads for his birthday to come around. His mother
explained that he always despised his birthday because even though he
would always plan his birthday party months in advance and invite
everyone he knew, none of his friends would show up, in fact no one
would ever show up at all. The story broke my heart until I heard the
update that a non-profit organization stepped in and are now throwing
an enormous birthday party for Tony and invited the entire town to
come. But what got to my emotions was that 157 people already RSVP'd
and so did the police department, fire department and the city
council man. What a wonderful happy ending. Tony's story gives me
hope, that humanity has not yet hit rock bottom. People with special
needs are just like everyone else, they might be a little different
but in God's image they could not be more perfect.
Love is not what you say, it is what you do, therefore I will forever
devote myself to not only loving everyone but showing love to
everyone, no matter what the circumstance is.