Name: Kaitlyn Lee
From: Fullerton, California
Grade: 10
School: Sunny Hills High School
Votes: 0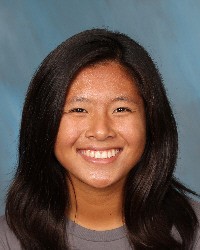 To make my community a better place, I have
contributed to the Chinese community in Fullerton and the surrounding
cities. Every Saturday for five hours, I volunteer as a Teacher's
Assistant at Fullerton Chinese School to help the teacher and
students learn how to read, speak, and write Chinese and learn
various aspects of the Chinese culture. I was a student at Fullerton
Chinese School myself, which inspired me to help teach younger
students about our rich culture. I was in the same position as these
students, trying to learn about my culture and my heritage,
especially my parents' stories as Chinese immigrants. To accomplish
this, I had to learn how to speak and write Chinese and the different
aspects of life in the Chinese culture. When I completed all the
courses, I decided to stay and help teach Chinese students learn
about their heritage, as well as non-Chinese students learn a
different culture. I would look over the students' homework and
give them points for the class. When the teacher is teaching a lesson
on writing Chinese characters, I go around the room to help the
students properly write the characters and ensure that each student
understands the meanings behind each character. I assist with
learning activities that introduce the Chinese culture. For instance,
when there is a Chinese holiday, I help the teacher prepare for a
class activity regarding the holiday and teach the students the
traditions and customs of the particular holiday. By aiding the
instructors in teaching the students about Chinese, I was able to
help contribute to the Chinese community by expanding the awareness
and deepening the appreciation of the Chinese culture. From my
efforts, I learned that one small act, no matter in what position I
am, can make a positive impact in the community. Even though I was a
volunteer, I was able to influence the learning of Chinese culture
among others, even the parents of the students. That experience
inspired me to advocate for kids to explore their own heritage and
find their unique identities within their culture.