Name: Kaden Stenger
From: Martinsburg, West Virginia
Grade: Sophomore
School: Martinsburg High School
Votes: 44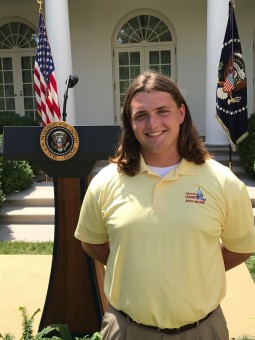 Doing
a Good Turn Daily for a Better Tomorrow
By
Kaden Stenger
Frederick
Douglass said, "It is easier to build strong children than to
repair broken men." Our
society is slowly waking up to the fact that we must revise the way
we raise boys as it currently lacks the essential connection between
boys and men. High rates of divorce and out-of-wedlock births
combined with a loss of community are creating generations of boys
that lack fathers, mentors, and positive male role models. Boys are
in need of role models for direction, encouragement, accountability,
and recognition of good choices. These societal needs have become a
driving force for my volunteerism and continued involvement in
leadership with the Boy Scouts of America, an organization where boys
may receive influence and guidance from upstanding community leaders.
On
average, I currently spend between eight to twelve hours monthly
volunteering in various leadership roles through Boy Scouts. Early
on, I joined the Boy Scouts of America and helped to found a new
troop when I was ten years old. After only one year, I was elected as
the Senior Patrol Leader of my young troop. While I held this
position for two consecutive terms, my experiences through Boy Scouts
enabled me to overcome various challenges in leadership and assist
less experienced Scouts in developing their own merit through
learning experiences. I learned how to communicate professionally and
effectively with peers and adults experiencing leadership first-hand.
My peers later elected me into scouting's national honor society, the
Order of the Arrow. Through the Order of the Arrow, I have come to
hold multiple regional positions and again have become a volunteer
unit leader, the Lodge Chief. Additionally, I took on roles in our
section to recruit and plan events with over 1,000 male attendees
from Virginia. Through it all, my biggest challenge was always trying
to please everyone with my methods, communication, and the effects of
the decisions I make on behalf of scouting. However, what gives me
the most satisfaction as a volunteer is observing the lasting
memories that help to shape tomorrow's future. These experiences
have shown me that my true desire is to use my strengths to
positively contribute to achievements of individuals and groups.
In
looking forward, and realizing where I feel most successful, I have
taken a true interest in human relations and group construction. This
constant role of helping young boys and other adolescent men, and
adapting to situations is what rewards me. The leadership roles in
volunteering through Boy Scouts of America offers the opportunity for
me to take on challenges, overcome them, and help others succeed. I
can learn different skills of empathy and compromise for the success
of different groups of people involved in any business or situation.
By implementing what I have learned through my volunteer experiences,
my excitement and passion can be focused on something that can
potentially change a workplace and lives altogether.