Name: Lillian Clark
From: Tucson, Arizona
Grade: 10
School: University High School
Votes: 0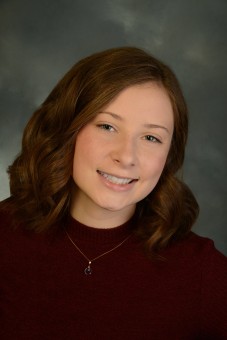 Today at K-12 Refugee Education Services,
we decorate not eight planets, but nine for our Solar System mobile.
Evangelique slathers the last orb with paint, exulting in a world of
her own creation. Its stripes of black and yellow are a monument to
Tanzania, her ho me.
Evangelique is a girl with hands that
turn yarn to cloth with mechanical speed. She is an athlete, an
aspiring astronomer, a friend, a sister. Evangelique speaks with
musical slowness, four different languages resonating from her small
frame. After Astronomy Club, I help her with algebra, carving
parabolas with paint-splattered hands. Our table is strewn with pens,
arranged as shapes for Abdi to manipulate. He whispers in Swahili
with Ikra as she works over diagrams of mitochondria.
Glancing back at our foam planets, my
eyes catch on Hafso. Alone at the newspaper-covered table, she flips
through my worn issue of National Geographic. As she strokes the
glossy paper, I glimpse the image that holds her attention. It is
Armstrong's space suit, laying empty. Hafso releases a breath,
fogging the air with a yearning that is palpable, contagious. From
the curve of her mouth and the glint of her teeth, I can tell—this
is the thing she wants most of all, the thing for which she would
trade her flowered hijab.
Next week, I know what I will bring to
Astronomy Club. Armed with faith and a laptop, I will do whatever I
can to make these girls' dreams come true. Hafsa may never make it
to space, but not for our lack of trying.
But some weeks trying isn't enough, no
matter the words I use. Explaining logarithms to a girl who speaks
mainly Kinyarwanda is never easy. Many struggle in a system that
expects them to understand slope-intercept form before mastering
multiplication. Constantly I must consider my mistakes. I know I have
much to learn to become a better mentor. Success is not often
something achieved on a short timeline.
I spend five hours a week tutoring
refugees because they deserve the best futures. I look forward to the
day when these students, my friends, become nurses and politicians.
They are my inspirations. From them I've learned the belonging that
fuels my desire to work with refugees for the rest of my life. As a
civil engineer, I hope to improve life in refugee camps, lead
humanitarian disaster response, and someday found a non-profit to
build healthier, more educated communities where girls can follow
their dreams, even in catastrophe's wake.
Back at Refugee Education Services, Adam
plays "All of Me" on our aging piano. I watch Jeannette sway as
she belts the lyrics. I sing along, embracing the cacophony,
exquisite in its imperfection. In a crowd of displaced refugees, I am
home. Hafso, Gentille, Evangelique—I look into their faces and see
how far we will go.
I could stay forever, but it's closing
time. Strolling away, I look up at the humming stoplights and
blue-yellow murals. My eyes won't stop smiling.