Name: Adam Block
From: Cabool, Mo
Grade: 10
School: Cabool High School
Votes: 11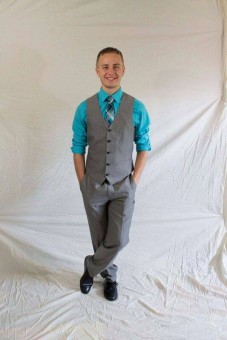 "Project Run, Throw & Jump with the Dawgs" is a
collaborative, $50,000 effort, of which I started to benefit my
school track & field team. My track coach and other team members
are assisting with my volunteer project. Unlike other sports offered
at our school, we do not have a safe or adequate training facility to
train for our specific "event". As a senior, I realize how
important an adequate track and field training facility is to our
school and the future teams which will benefit from its development.
This
has inspired me to bring awareness and change for the benefit of my
team and its future. "Project Run, Jump & Throw with the
Dawgs" is a school and community effort to completely renovate
our rusty, dilapidated playground and purchase brand new,
top-of-the-line performance equipment. The completed project will
include a 20×30 portable building, 12×20 pavilion, an extra 7,400
square feet of concrete, running water, a concrete wall dedicated to
"all-time records", two shot put rings, one discus ring
with over 300 feet of safety netting, one triple jump runway and sand
pit, one long jump runway and sand pit, and one rubber runway for
hurdles. This training facility will also benefit the community as
well as elementary and middle school physical education classes.
For the first
phase of this project, I volunteered over 15-20 hours a week. The
first phase of the project entailed evaluating the current training
facility, making measurements of existing and future additions,
drawing plans and speculations for the project, and presenting the
plan to the school board. With the school board's approval, the
second phase, and the most challenging part of the project which
involves fundraising and project estimates, is now under way. We are
currently planning several fundraising projects this spring, and with
success, ground breaking on the preliminary phase of the project
should take place by spring of 2018.
Being part of
this project has been very beneficial to me. I have learned how to
implement plans, rally classmates to complete project tasks, and
address the community for needs. I have also learned to plan ahead
in order to implement goals efficiently and effectively. I am also
extremely satisfied and excited to have a positive impact on my
community and the people around me as the project grows every day.
This project is bringing together the elementary, middle and high
school to practice in one spot rather than out on the streets and
sidewalks. This area also serves as an evacuation area for fire
drills and a training area for elementary activities. As I look
forward into the future, the community is beginning to take notice
and be able to use this facility for physical fitness and family
bonding. It will re-write history in terms of safety, teamwork and
ethics for our school district and community to work and achieve
together, and it will send the very important message that we never
know what we can accomplish until we try together.