Name: Nicholas Johnson
From: Suffern, NY
Grade: 10
School: Suffern Senior High School
Votes: 0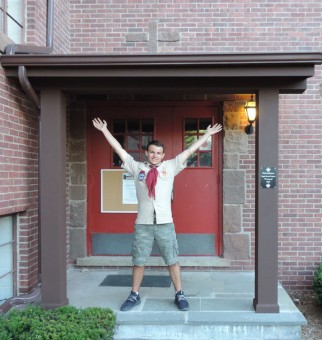 Nicholas
Johnson
There is that one feeling in the world that you feel once, and oh boy I
knew when I felt it. Accomplishing a difficult task was the most
satisfying feeling that I have ever felt. Looking back on my
achievement and having friends and family recognize what I have done
made the feeling of becoming an Eagle Scout that much more fulfilling
for me. But my Eagle adventure taught me much more than just being
proud; it taught me important life lessons and skills I will utilize
for the rest of my days.

Choosing a project that would not only help my community but would also allow
me to look back on and be proud of what I made. I had ultimately
decided to help out my local church by creating an awning over the
doors that leads to their soup kitchen. This not only benefited the
church and the people who go there by protecting them from the
weather but also gave me a sense of satisfaction because it is
different from most projects. Throughout the planning process,
executing and finalizing I had learned to be a better leader and
improve life values as well.
In scouting, leadership is taught from the day when you join as a Boy
Scout. As I would move up in the ranks I would learn not only how to
lead my peers and those around me, but to work together as a troop.
Teamwork and leadership worked hand in hand if we ever wanted to
complete a task completely and efficiently. Over time you gain and
improve upon these skills to help lead the next generation of scouts
into the right direction by giving them the tools to succeed. During
the process of designing my project to become an Eagle Scout all of
my skills were put to the test, in order to ensure that I was truly
deserving of the title. It wasn't just giving commands and waiting
until my project was built; I had to work with many people I didn't
know such as local store owners and the building inspector. But
before I could do that I had to collect supplies from local
businesses. Leadership was essential for this project since I
couldn't rely on my parents or some adult to hand me everything. At
the end of the planning phase many people were happy with how far I
had come in such a short time and at that point I knew I was ready to
start building. Going around, handing out letters and talking with
business owners taught be how to be a better speaker and how to
handle new and possible uncomfortable situations. Most places were
kind enough to give material donations even at a discounted price at
their stores. After a few days of looking around, my father's friend
at "Nyack Lumber" was more than willing to help after I talked to
them explaining my story. Finally during the building phase of my
project I had faced situations that I, as the leader, was expected to
handle. Some of these include deciding on last minute changes with
the church leader, telling workers what had to be done, and giving
jobs out to the younger scouts so everyone could contribute.
With the help of those in my troop, and those close to me, in the end
after I had completely constructed the awning. The church goers, the
Boy Scout council, the building inspector, and everyone that
contributed to building the awning were very pleased with how it was
finished. Over the course of this project I learned important life
lessons that I feel will stick with me for the rest of my days to
come.