Name: Abbigial Murphy
From: Omaha, NE
Grade: 12
School: Elkhorn South High School
Votes: 0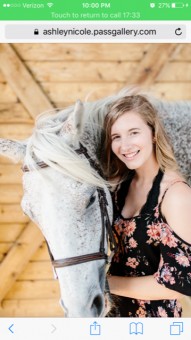 Abbigail Murphy

I chose to volunteer for my local library, and helped with the annual
summer reading program. I volunteered a total of four hours a week,
every week in the summer vacation going into my junior year. As a
volunteer, I was to hand out prizes to children who had reached their
reading goal for that summer. I would give water bottles, prize
money, and even free books. The biggest challenge I faced while
volunteering was dealing with angry parents. When their child had
not reached their particular goal, the parent took it upon themselves
to argue until their child got what they had "read" for.
However, when a child had actually read and put in the hours it had
taken to reach their required level, that prize meant the world.
This is the look I arrived at 7:30 AM on summer mornings for. There
is no expression that can come close to a child's excitement, and
that expression was my job. I learned through this wonderful
experience that kids really don't despise education, just education
that they deem unworthy of their time. Through the summer reading
program, they developed a love of reading, prize or no prize.
My activities are deemed "forward looking" because they consisted
of furthering the education in America. Such a great importance is
placed on reading and English skills nowadays, that by rewarding
positive behavior in an out of school environment, the future will
appear brighter for many children. When I think "forward looking"
I envision a cure for cancer, flying cars, and an end to global
warming. By promoting education at such a ripe age, even as simple
as reading a Magic Tree House book, the next generation will create
inventions that are not even fathomable now. By volunteering, I hope
to promote one of my greatest passions. I see myself in every child
that I worked with, because when I was their age I read everything I
could get my hands on. Whether it be a magazine about the economy in
Italy or an exciting tale of a hamster going to school, I read it.
Through spreading my love of books I hope to improve the education of
these kids. More than just literary skills emerge from reading a
great book, and those skills will still be needed in the future. I
believe my volunteering will make a difference down the road, because
that love of literature will never die in those children I awarded.
All they required was a push, and I was lucky enough to provide that
for them. Not only have I touched their lives, but the lives of all
of those people they will go on to help someday.