Name: Siobhan Hunziker
From: North Haledon , New Jersey
Grade: Sophomore
School: Eastern Christian High School
Votes: 0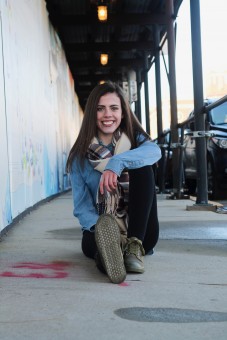 Empathy: The Greatest Tool of All
Most are aware cancer is a destructive illness inflicting deep pain on
those affected, but not many are able to empathize. By the age of
thirteen, however, I became empathetic to those affected by sickness
as both my parents were diagnosed with cancer. Unfortunately, my
father passed away eight months after his diagnosis. As I was exposed
to the destruction of cancer, I became so burdened that children my
age were suffering firsthand from cancer in the same way I had
watched my parents struggle. Despite my age and limitations, I was
determined to relieve families from some of the pain they were
experiencing due to illness. With this goal in mind, I partnered with
the Make-A-Wish Foundation to host the annual two-mile BILLieve Walk
in honor of my father, Bill. As the host, I was responsible for
obtaining permits and insurance, hiring a DJ, creating an online
funding page, designing t-shirts, and handling money. Needless to
say, organizing the BILLieve Walk from scratch took most of my energy
and time. Every week, I spent a minimum of five hours tirelessly
working to perfect the BILLieve Walk.  

           All my energy poured into BILLieve was worth it since I learned many life
lessons. Not only had it become an outlet to grieve the loss of my
father, but it had also taught me the lesson of humility. Since my
parents were sick the year prior to starting the BILLieve Walk, I
learned what it meant to be served by and as a community. It required
immense humility to ask people to come alongside me and financially
support children's wishes. While many supported me, some businesses
and organizations were hesitant to support me due to my young age.
They refused to sponsor me since I was only fourteen when I began
hosting BILLieve. Fortunately, these people have strengthened me as I
have learned the importance of confidence in my dreams and humility
when serving.
Perhaps the most rewarding part of partnering with Make-A-Wish is being able
to give back to those I empathize with. After losing my father, the
importance of community has taken on new meaning in my life. I am
able to recognize how important the support of others is when a loved
one is battling an illness. It is beyond rewarding to know families
were given hope and a lasting memory in the form of a wish. Through
BILLieve, I raised over $22,000 and granted four children's wishes.
Two of the children went on a vacation with their family, and I
receive so much joy knowing their family was given an unforgettable
experience to bond and forget about sickness for a week. The memories
made through these wishes will last a lifetime, which is why BILLieve
has had such a lasting impact. Looking forward, I hope to continue to
foster hope and peace to those struggling. In college, I hope to
pursue ministry to seek more opportunities to serve and spread
infinite joy and love to all.