Name: Christopher Luis Pesantez
From: New Milford, Connecticut
Grade: Sophomore
School: New Milford High School
Votes: 0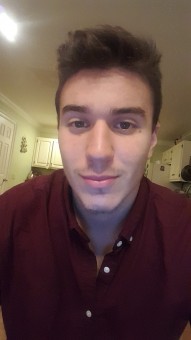 Chris Pesantez
Environmental Cleanup

Freshman Year, I volunteered for an environmental cause: after school every
day, when it wasn't basketball season, I went to pick up litter. I
did this until I had accumulated 3 cubic feet of trash. The reason I
did this was because I've always cared about the environment and
been an animal lover, seeing the litter laying on beautiful grass or
hiding among flowers genuinely disgusted me. This wasn't a time
based activity but it usually took me slightly more than 30 minutes.
Per week it was about 2.5 hours, per month it was about 11 hours, I
did this for 8 months so overall it was about 88 hours that year. My
biggest challenge was getting over the thought that the litter was
gross, but I came to realize that it had been sitting there for a
while and it had been a long time since the previous person touched
it meaning that whatever contaminants I had been thinking about were
likely washed away by weather. The best part about picking up what
the careless left behind was dropping the bag of non-decomposable
material where it belonged: in the recycling bin. Although it got me
sweating and dirty, there was joy in it past doing the right thing, I
felt accomplished by doing this. I learned to care more about the
planet I call home. I understand that everyday trash just ends up in
landfills like massive piles of litter so I have taken recycling as a
burning passion. If it does not decompose, it can be recycled. I want
to be a mechanical engineer and my goal in life, through this
profession is to save the world. There are many ways things can be
improved but an example of how I want to do this is by eliminating
pollution. People can't be told or taught to do the right thing,
they have to be shown true goodness. Forward looking to me means
looking to the next thing: if something goes wrong, looking for a way
to make things right; if something goes right, looking for a way to
keep things good; it means looking for ways to share my positive
influence in any way. There were times when I got friends to go
around picking up litter with me. When I see someone reaching for the
trash when they have a recyclable item in their hand, I tell
charismatically, "Put that in the recycling, it's bad for the
environment," which they often times do without further persuasion.
Maybe I sparked some enthusiasm for environmental care in them the
way I strengthened mine. My activities may not have made a tremendous
impact on humans in any way that they would appreciate, but to the
other living things, I gave them a healthier home by taking
responsibility for atrocities left behind. There will be new life
that blooms in places I cleaned up.