Name: Jocelyn Maneau Marencik
From: Glen Allen, Virginia
Grade: Junior in 2017-2018
School: Deep Run High School Center for Information Technology
Votes: 0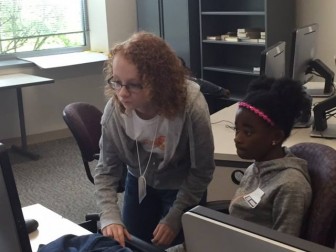 Technological fluency has become an essential part of providing
the opportunity to be successful in school and for most any career.
It also provides a creative and artistic voice for students. I had
been reading many newspaper articles in the local Richmond newspaper
about the vast difference in the quality and quantity of technology
equipment and classes between the affluent schools in the county and
the poorer inner city schools. I felt that the inner city children
should be given the same tools and opportunities to have an equal
chance to succeed in the future. This was the driving factor in
founding my community initiative named Got Tec Richmond.
Got Tec's mission is to donate and finance technology equipment
for under-served schools in the Richmond, VA area. This has also
lead to expanding the mission to offer "Learn-to-Code" classes in
the same schools where I've donated equipment, holding technology
giveaways for teachers in the area, and speaking to inner city girls'
leadership groups about volunteerism and technology. I have been
able to fund my initiative by personally crocheting items for
donations, holding neighborhood recycling drives, restaurant fund
drives, and through local business and individual donations. Also, I
have secured several youth grants which have helped fund larger
classroom or library wide technology equipment upgrades. Funding
higher valued technology equipment has been the toughest obstacle to
overcome, but is accomplished with many hours of persistence and
negotiating creativity. After 2 years of existence we have made at
least one donation to every Richmond Public Elementary and Middle
School (35 total), as well as several of the high schools. I have
organized and taught "Learn-to-Code" classes at 8 of the
elementary schools, most involving multiple sessions in one day or
several sessions throughout the year. I estimate Got Tec has donated
over $23,000 worth of equipment, which has had a direct effect on
over 12,000 students in the school district, and the classes
themselves have been attended by over 520 students.
The biggest satisfaction of Got Tec is that I have been able to
help so many other students discover the same love for technology
that I have. More specifically, one female student, who created her
own animated dance video in one of my classes, stood up on her desk
and danced to her own video singing "I did it, I did it". Two
schools I work closely with have been able to start weekly coding
clubs driven by the fact so many enjoyed the classes I had taught.
Given these positive results, I have been able to dedicate 10 to 15
hours per week into my imitative during the school year. Besides the
satisfaction of helping others learn, I have also been able to learn
a good deal about fundraising, social media marketing, project
management, teaching, and public-speaking, It has also lead me to
decide in possibly pursuing a combined Computer Science and
Non-Profit Management Major in college.