Name: Lauren Peña
From: Sanger, Texas
Grade: 10
School: Sanger High School
Votes: 0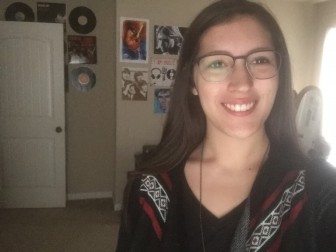 Lauren
Peña 2
26
September 2017
Eternal
Hope for Others
For five consecutive summers I have spent a week in a different state
with the purpose of helping those in need. I attended mission trips
organized by my local church with the mission to help others, as well
as spread the word of God.These trips have lead me to physically and
mentally help others in ways I didn't think was possible.
My love for God and my passion to help others
lead me to go on these trips, along with my desire for a better
world. The opportunity to help others opened my eyes to the needs of
our world and it was a blessing to be able to serve and help the way
I did.
During the week we would spend at our location, we spent around eight to
twelve hours of each day serving. Our serving varied from cleaning up
a lot in the 9th ward of New Orleans, Louisiana, leading a Vacation
Bible School at a church in Renton, Washington, cleaning and painting
a disabled woman's home in Pawhuska, Oklahoma, and even planting a garden on a farm in
Glorieta, New Mexico.
I faced many challenges when on these mission trips, but the main
challenge I faced was opening up and talking with others. I am a
quiet person so having to talk and share with the homeless people we
met was difficult for me. This challenge was a good thing though,
because it allowed God to use me in the way he needed me in that
moment. By summoning the courage to talk with these people God was
able to bless those people through me. The most important thing these
experiences taught me is that selflessness is key to a fulfilled
life. We are surrounded by so many people in need and being able to
help is a special and rewarding thing.
In the future I hope to be given many opportunities to help others.
Having a selfless attitude is a rewarding thing within itself, but
being able to apply that to daily life is something that
everyone should try and strive for. When thinking about "forward
looking", I think about how everyone should approach helping
others. When I helped plant a garden in Glorieta, New Mexico, we were
planting the food that the people residing in the town would eat
months later.
By volunteering the way I did, the changes I hope to see are the
presence of God in these peoples lives and a real change done through
the work we did. If I were to go back years down the road, I believe
my work would've made a difference because the garden we planted will have been
harvested, so hopefully the food we provided for many people somehow
brought them on a path towards God. I believe we made a difference
because the work we did left physical and metaphorical seeds. Seeds
that brought food to those in need and seeds that brought the word of
God.