Name: Rosa Candle
From: Covington, WA
Grade: Junior
School: Kentwood High School
Votes: 0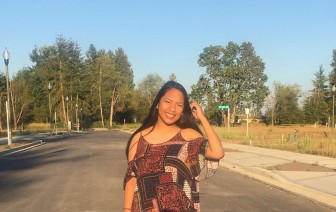 Every step
counts
A significant human rights activist Muhammad Ali once said, "Service to others is
the rent you pay for your room here on earth". I've heard this
phrase many times before, but didn't matter to me until now. I have
learned that to do service to others, it's the little things that
count the most. I learned that it is better to be a lifter than a
leaner, a leader than a follower, a saint than a sinner. I have
learned that the bills I pay here on earth is given to those who
needs it the most. It is important that I put my needs before my
wants.

For six years I have been a member of young women in excellence. We
were given a journal to see how we improve. Our motto states "our
values are what makes us who we are". This identifies who we are
because we define our values. We have participated in local community
activities. Every year we support the community by cleaning the
neighborhoods of elementary schools, volunteering to local community
events, and every year we donate clothes for goodwill and more. I
have witnessed firsthand how our local neighborhoods were impacted by
their living situations. It became more important to me to spark a
light to where there is darkness. I am forever grateful for our
mentors in young women in excellence. I have learned that our values
define who were are, that there are more steps ahead after completing
a little journal. I wanted to expand my volunteer options.
A little after a year of being a member of the young women in excellence I have
participated in Polynesian club and United cheer and arts/crafts on
school campus. Polynesian club where we are impacted by our ancestors
and what they left us. I have been culturally involved. Each year we
host gatherings to all Polynesian in our local community. But also to
people who want to get to know our culture. This gave me a chance to
learn the burdens that my ancestors have sacrificed, for the future
of the next generations. Unified club where special ed students and
students around the school come together in unity. I have seen the
hardships these students go through. I also have been involved in the
deaf community by contributing to deaf spotlight every year. My
experience has influenced me in many ways. My love for community
service continues to grow stronger each year. I plan to be enroll in
Central Washington University because they are known for their
community service efforts. I am planning to join key club this year
to become a leader in the community. I want to continue to identify
my values and self-determination. I want to develop my leadership
qualities so one day the rent I pay to live here on earth is payed
off.