Name: Madison Piper
From: Peoria, Arizona
Grade: 10th
School: Sunrise Mountain
Votes: 0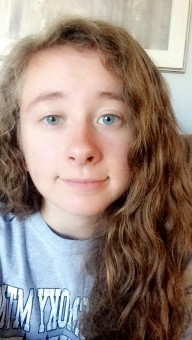 Everyone Can Do It
Think about your typical day. Everyone's own day is spent
differently. It could be working on that English paper for school,
heading off to swim practice, or simply hanging out with friends.
Although, not everyone's daily lives look like this. Some people
just need a helping hand with troubles and through volunteering we're
able to unite and become a better community together. This concept
will be delved further into as my own personal experiences are
discussed.

First off, my selected area of volunteering is special needs
athletics. The specific organization is called KEEN (Kids Enjoy
Exercise Now). How their service works is all participants are put
into pairs of an athlete and a buddy. In these pairs the buddies
assist the athletes in accomplishing various forms of exercise. The
activities include swimming, basketball, and playground time and new
sports can be mixed in as well. Now, the reason I had chosen to
volunteer here is because initially I found out about this place when
my step mom began running one of the branches. Although, the reason I
stayed is because I discovered the joy which is building a meaningful
connection with an athlete. You walk in simply thinking you're
helping someone, except you're actually working and improving both
your own and their skills.
The journey I have taken with KEEN began when I was starting junior
high. The club NJHS, National Junior Honors Society, recognizes the
Academic achievements of students and pushes them to improve their
community. Before I joined I would volunteer but not as regularly. I
have always loved volunteering and this club gave me the nudge I
needed to make a bigger difference. Now, when volunteering with KEEN
this occurs every other week on Sunday. Also, there are sometimes
fundraising events which occur on Saturdays. All in all, we do not
see the kids a lot but it is nice to catch up with them every two
weeks.
Of course, while the experience earned when working with these kids
is incredible, it does have challenges. To participate it is
difficult to initially develop a successful method in communicating
with them. When in this situation staying patient is vital. If your
words do not come through at first you must try again. The process
may be long but is worth it in the long run. This is because is it
necessary in order to accomplish the greatest triumph when working
with the kids which is precious friendship. This feeling is one of
the best in the world, to see the smile spread on their face. The
action could be as simple as passing the ball back and forth or
making that shot in basketball. Then, not only do they learn a new
skill but also you learn how to productively work with others.
Furthermore, the act of assisting others creates an emotion that
cannot be easily replicated. Since I have been bitten by the
volunteering bug I have developed a fever I do not see ever fading. I
see my passion for helping people spreading throughout my life. Now,
as my journey continues the positive change I wish to make is closing
the gap between average kids and special needs kids. This cause is
important because at the end of day we are just people.