Name: Leah Whitmoyer
From: Tucker, GA
Grade: 10th
School: Tucker High School
Votes: 0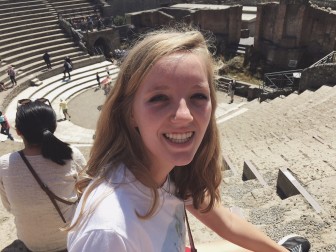 CNN,
Fox 5, and AJC have deemed Atlanta as the #1 hub for human
trafficking in the United States. Our extensive highway system,
bustling airport, and wide range of opportunities for immigrants lure
traffickers into my city with hopes to profit off the exploitation of
young, vulnerable women.
Atlanta
is my home. I've lived here for all 16 years of my life. The
beautiful skyline, enormous aquarium, and plethora of exciting
sporting events and concerts have provided me with fun memories with
family and friends. However, underneath this joy lies the fact that
almost 100 girls are sexually exploited each night, 12,400 men each
month pay for sex with a young woman, and 5,000 girls are at risk
each year of being trafficked. All in my home.
When
my 10th grade literature teacher introduced my class to photographs
by Lisa Kristine- a photographer who works to educate about
modern-day slavery through the non-profit, Free the Slaves- I was
inspired to investigate this organization and felt that it was my
duty to educate others about this issue that prevailed in my beloved
city. A classmate and I organized a chapter of Free the Slaves at our
high school. We planned to educate our school and community about
trafficking and how prevalent it occurs both internationally, and in
our very own city. Within the past year, I have organized bake sales,
forums, and supply drives to raise awareness about human trafficking
and to fundraise for organizations that combat trafficking both
internationally, and in Atlanta. I am responsible for advertising
these events on our community Facebook page and throughout my school.
I also help organize the events by reaching out to business owners
and nonprofits. Most recently, I coordinated a bake sale that occured
during a community Halloween parade. I spent hours creating posters
and flyers, baking brownies and cupcakes, and scheduling volunteers
for the event. We successfully raised $350+ through our sales and
donations, but also taught kids and adults about trafficking and why
it occurs so frequently in Atlanta. As co-president, I also organize
bi-monthly club meetings where we teach about different branches of
human trafficking. Topics include: exploitation in Atlanta, the
Liberian slave trade, and labor trafficking in Asia. I face
scheduling challenges with club members since I have to balance my
school work and my job as a hostess with volunteering for my club.
Through this, I have learned how to effectively plan meetings and
prioritize my time. These complications can be problematic, but it's
satisfying to hear our peers converse about trafficking and the
problems it poses. I hope that the awareness I have promoted will
prevent further cases of trafficking.
To
me, "forward looking" means that the awareness I have
promoted will make a difference throughout my community. If one young
woman can avoid being trafficked, or one person, family, or community
can be educated on preventing exploitation, then my efforts will
truly make a difference now, and for years to come.