Name: Guadalupe Andrade
From: Porterville, CA
Grade: 10
School: Monache High School
Votes: 0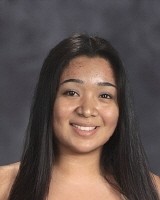 I have done several volunteer activities over my
four years of high school; some have been helping at my middle
school, at preschools, elementary schools, sport teams, at local
churches, and church groups. I chose these mostly because I enjoy
giving back to the people who helped me when I needed them; this is a
way of saying thank you for what they did. One of the ones I most
enjoyed was going back to my first communion teacher and helping her
out with her new class of students, while I was there I help them
with their prayers and read to them from their weekly passage, after
that they would answer questions. The best part was the end because
before I was leaving several students came up, hugged me and said
thank you. At that moment a rush of excitement went through me
because I knew I had done the right thing in going that day to help
them. In my volunteer services I would volunteer for five hours and I
would go anytime I had a chance. If it was a once a year activity I
would go the following year, and tell my friends about it so that
they would help the following year. At first my biggest challenge was
making room to go and help out as well, and giving up my free time to
be helping others. Now doing these types of volunteer services is
something that I enjoy a lot, especially when it involves helping
children. I love helping children because I get to help them learn
new things that they will use the rest of their lives. I have learned
that you should never expect money from someone if you enjoy what you
are doing; everything is not about getting money from helping you
should take a thanking as the best way to get paid. These activities
are also stress relievers because at the moment I forget about other
things and focus on what I am doing. My career goals relate to my
volunteer focuses because I help when there are children, because I
want to work with children helping them with their problems and
giving them solutions to make their lives better, and make them feel
loved. These activities are a way of forward looking because it is
showing me whether the career I would like to study is what I want to
do the rest of my life. I seek to get others to volunteer more and to
make the best of these types of activities, and to never stop
helping. If I were to come back I do think that my volunteer
activities would have been different, I would have stood up and came
up with my own volunteer activities, and stop fearing whether it
would be successful or not. I would simply give it a try and go on
from there, if it was successful great and if it was not just adjust
whatever I did and try again.