Name: Regan Hines
From: Sammamish, WA
Grade: Sophomore
School: Eastlake High School
Votes: 0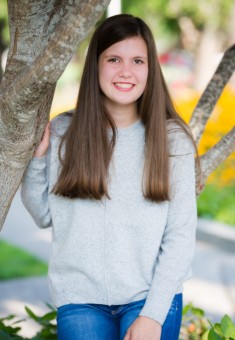 The fight against cancer has become important to me over the last few
years, which is why I chose to become involved in the Relay For Life
of the Eastside.
I remember the
exact Thursday afternoon I came home from middle school and heard the
three words come from my mother's mouth: "I have cancer".
After a period of shock and sadness, those three words gave me fuel
and ignited me to become involved in this fight. I have volunteered
numerous hours over the last four years, but particularly in the last
two when I have been a part of the event planning committee. I spend
approximately 75 hours a year, about an hour or two a week
volunteering for this cause.
I oversee the
recruitment of members of our community to form teams and fundraise
along with the recruitment of survivors and their caregivers to
spread the hope to others. From this position I have learned how to
work with many different types of people. We have 50 members on our
planning committee, so working with them, our staff lead, and members
of our community I have encountered many people with different
strengths and weaknesses. One of the biggest challenges I
encountered is making the transition this year from a high school
event to an all community event. But, satisfaction comes with this
as well, as I can see the impact of our fight on a greater number of
people, and I know I am helping little by little to help patients and
end this fight once and for all.
My interests
align perfectly with my volunteer focus, as my goal is to become an
oncologist. I plan to receive an undergraduate degree in
biochemistry and attend medical school to receive a degree in
oncology. The fight against cancer is not something I am willing to
give up on. It is one I will keep fighting until I see its end.
To me, "Forward
looking" means being able to develop yourself and those around you
to make a better future. I see Relay For Life as "forward looking"
because through my actions I have sparked an interest in myself to
continue the fight against cancer, and through our event, we have
helped so many patients and their families in their journeys, giving
them opportunities such as Look Good, Feel Better and Road to
Recovery.
I hope someday to
be able to find the cure to cancer. I know it is a difficult goal,
but I feel with my drive and determination, I will be able to cure
it, but if not, I will set future scientists up for success in
finding the cure. Relay For Life has been around for years, each
year making a large difference in the fight against cancer. I know
our efforts have helped numerous patients all around the globe and
someday will fund the research to find the ultimate cure.