Name: Madeleine Oliszewski
From: Bradenton, Florida
Grade: 10
School: maddie.oliszewski@gmail.com
Votes: 0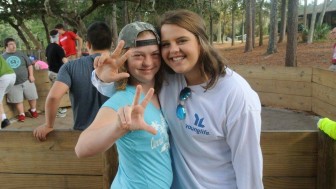 Before
I can remember, I have volunteered with children and adults whom have
disabilities. It all started in middle school where I chose to take
part in their physical education instead of taking an interest in
art, music, or computer classes. Within in the first month of
volunteering in that class; I knew my life was going to change, which
is pretty crazy to hear a middle schooler say. As I transitioned into
high school, I knew that I needed to keep my relationships going with
these kids. I recently had gotten involved in an organization called
YoungLife. YoungLife is a christian outreach program for high school
students. I spoke to the area director, Courtney Cotrone, wondering
how I can get more involved within this program. She explained to me
that there is another organization called YoungLife Capernaum.
YoungLife Capernaum gives kids and adults with disabilities the
opportunity to grow within their faith and conquer their disability.
I have gone on many weekend trips to Southwind, a camp located in
Oklawaha, Florida, and have witnessed many different disabilities
become one, watched each individual build their faith with the Lord,
and also witnessed many kids overcome fears that were once in the
way. I have never felt so full of love and joy with being around
these kids. It's
really hard to consider this volunteering when I feel like I'm
hanging out with my best friends.
I
definitely think that my volunteer service will have come into affect
in 10+ years. I've seen such a change in the past four years that
I've been involved in the classrooms; these kids have become
nothing but other students. For example, everyone hopes that one day
they're crowned prom queen and king. My junior year of high school,
we had voted 3 of our special friends as prom queen, king and prince.
We were to vote for them on prom night. As it came time for the
announcements, we were able to crown our friends as prom queen, king
and prince. Our school had came together to give these kids a memory
they will never forget. It was so special to see my high school come
together and pass up an opportunity, for kids who truly deserve
royalty. It excites to see what my community will turn this into in
ten or more years, and I can't wait to be apart of it.