Name: Faith Mosemann
From: Nashua, New Hampshire
Grade: 10th
School: Nashua Christian Academy
Votes: 0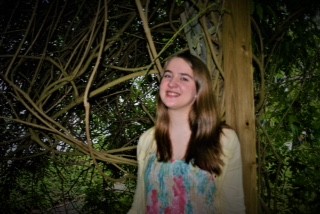 The
Odd Shaped Key
Signs
of adulthood clouded the young boy's once innocent features and his
eyes showed a depth I had never seen before. No words came from his
lips to voice his feelings. Pain and sorrow had left their mark on
their naive victim and hopelessness had moved in.
I
met Daniel on a mission trip to West Virginia (100 hours] when my
team and I held a Kids Club for the locals. When I saw the shy boy, I
could see a reflection of my younger self. Actions such as hanging
back from the others and thinking nobody saw me, seemed all too
familiar. Memories flooded my mind as I thought about the times
people had made an effort to reach out to me: a simple word of
encouragement, a pat on the back, or someone taking me aside for a
one-on-one conversation to find out my true emotions about something.
Would this work for Daniel as well?
Holding
a football in my hand, I reached over and tapped the little
seven-year-old on the knee. He sat there with his head down while
inhabiting the farthest corner of the room. With a cautious look, he
glanced from myself to the brown football that matched his eye color.
"Do you want to play catch?" I inquired hopefully. A slight nod
from him made my heart jump with the possibility of breaking through
those walls of silence. Together, we went outside and started
throwing the ball back and forth. Sports had never really enticed me,
but I began to see that this oddly shaped ball fit the padlock to
opening this young boy's heart.
As
the week went on, we began to also play baseball and soccer – just
the two of us. One day, the other children in Kids Club had a
gigantic water balloon fight. But Daniel did not want to play, so I
offered to throw water balloons instead of a baseball for him to
strike with a bat. Nodding his head repeatedly, he seemed
enthusiastic about the idea. With a loud pop, the water from the
broken balloon drenched Daniel in his Batman shirt. For the first
time, I saw a huge grin spread across his face as he prepared himself
for another swing. No longer did he seem gloomy or full of despair,
but instead his childhood joy had emerged.
Just
like Daniel, no matter how quiet or shy people may seem, they still
long for love and recognition. Learning how to love people
limitlessly and then being an example for others, is the only way to
truly leave a positive impact on the entire world. Even though I may
never seem Daniel again, I know he has left a mark on my heart to put
others' needs before my own. My experience in West Virginia has
given me a desire to reach lost children who do not understand their
worth by investing in their lives through relationship – and not
just while I am volunteering.