Name: Udochi Okorie
From: Hawthorne, California
Grade: 10
School: Hawthorne High School
Votes: 0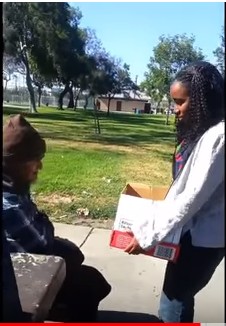 For Those Who are in Need and For Those Who Give.
He raises his bucket with shaky hands and teary eyes, in a raspy voice, he asks me if I
can spare food or money. He is the older homeless man I always pass
by on my way home from school. For some reason, I am embarrassed to
look at him for long so I try my best to avoid the pain in his
begging eyes. Involuntarily, my knees begin to weaken and my heart
swells with despair, knowing that this man is in need of help, but I
am unable to provide it. Homeless hungry people is an ongoing issue
in my neighborhood and I wanted to put an end to it. I began to plan
how I could accommodate this need for the homeless within my
community. The following day at school I witnessed a number of
students throw away their packaged lunch-lunch that could have been
used to feed the homeless man begging for something to eat. I picked
up the unopened breakfast and lunch food and stored them until after
school. Then, I took the food to my local park where there were a lot
of homeless people to hand it out to. I wanted to expand the amount
of homeless people I was helping, so I recruited 30 students to help
pick up unopened food from school and distribute it to the homeless
people in their neighborhoods. By the end of 2 months we were feeding
homeless people from Hawthorne, Gardena, Los Angeles, and Lawndale. I
have dedicated 30 hours every month for 4 years to feeding the
homeless in my community. One of the many challenges faced during
this experience was stress. My team members and I were under an
extensive amount of stress due to goal deadlines and schedule
interferences. To resolve this issue, I created a time chart and had
the team develop a 24 by 24-inch calendar in order to record all
deadlines. The time chart is used to schedule dates where members are
available in order for there to be fewer schedule interferences. I
set up massage sessions where we massaged each others backs and
temples while eating snacks and other treats. I also hosted a movie
night at the end of every week of our campaign. My activities are
forward looking because they create a cycle between wasted food and
those who are in need of food. Forward looking to me means creating a
better, more accommodating future for all people on earth. The most
memorable moment I had was when I handed a chicken sandwich to the
old homeless man. The change in his eyes will be forever glued to my
brain. His eyes lightened as hope filled his eyes, which brought an
immense amount of hope into mine. With this new found hope I realized
that the things we take for granted can be turn into gold for another
individual.