Name: Kelyse Keller
From: Florence, Arizona
Grade: 9
School: Florence High School
Votes: 0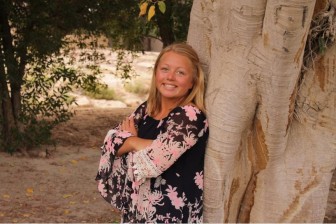 "Freely Ye Have Received, Freely Give"
I've volunteered in many areas—from children's programs to youth
programs and community gardening—but my favorite and most
fulfilling volunteer experiences comes from holiday spirit
volunteerism. Christmas, Easter, Halloween, Thanksgiving,
Independence Day, and Eid imbue warm feelings that I, and other
individuals, cannot help but sharing. In turn, I grasped every
opportunity. Most noted, was my participation in the Deck-the-Halls
Committee for decorating, setting up, ushering, and taking care of
all the logistics for the community chorale's two-night performance
of Handel's Messiah.
Many months of planning and organization were put into this effort. The
main challenge of executing this festive event was keeping it
hushed-up to a certain degree. Due to the fact that this religious
display was being held in the primarily Islamic state of Saudi
Arabia, non-Muslims were required not to divulge this information to
Muslims. Nevertheless, a mass collection of Christmas trees,
ornaments, lights, candles, coffee tables, and hanging décor was
compiled at the compound theatre. Keep in mind,all
of these items were temporarily donated byvolunteers.
The Dhahran Chorale was truly a volunteer-ran organization.
Through my volunteerism, I was able to gain satisfaction—satisfaction that
through my volunteering, I was living what I believed in: being a
true and devout Christian in all circumstances. When the concert of
Handel's Messiah itself finally arrived, it seemed that the whole
Christian community, within the Saudi community, was present. I
ushered in family after family, individual after individual, friend
after friend, stranger after stranger. I was in "wondering awe."
This learning experience educated my naivety of, and exposed me to
unity and its power.
As life progresses, my heart and mind are continuously turned to
service. Within the next several years, when my education is
complete, I intend to devote myself to a voluntary position as a
missionary for the Church of Jesus Christ of Latter-Day Saints.
Additionally, from my services to the Arab and Middle-Eastern
peoples, my career goals have massively shifted to the area of
international relations and humanitarian aid. It has been a blessing
to develop understanding of a foreign culture, their language,
customs, and societal expectations. However, my aspirations are
greater. Volunteeringmust be a part of my life. It is my priority, and I must return to Middle
East to accomplish it—to make the distressed lives of those I serve
better than I left them. It is my priority to exemplify that
individuals of differing backgrounds whether socially, ethnically, or
politically, are; nevertheless, united in love and service for our
fellow men.