Name: Alexa Trinette Williams
From: Boynton Beach , Florida
Grade: 10th
School: Boynton Beach High School
Votes: 0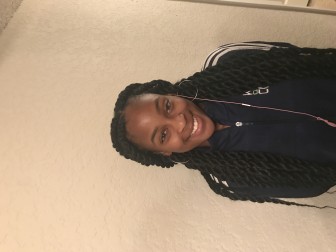 Maintaining
emotional control is my biggest challenge while volunteering to
assist those in need, but it is also my driving inspiration.
Committing to 2-15
hours weekly, I joined a sock campaign for the homeless. Though I
independently collected over 400 pairs of socks, I didn't really
appreciate the true value of this project. I imagined how socks are
something that I use almost daily with my biggest setback being
finding the missing match to the pair.
However, giving more
thought, I realized that my socks provide covering for my feet,
particularly in adverse weather; protect me from blisters; and make
my feet more comfortable wearing shoes. Then, I imagined that man,
woman, child, or baby lacking what I believed to be such a minimal
item. Only then, did I appreciate the true significance of my
efforts and this project. I gained a greater perspective of how
simple things may have greater value than you think. This experience
gave me deeper insight on volunteerism and serving my communities.
It also affirmed that helping your fellow man will bring you a great
feeling of satisfaction and fulfillment.

Each of my organizations or clubs offer a different experience though
the common objective is to 'lead and serve' the needs and
challenges within my communities and abroad. With each experience,
my thoughts and reflections are intrigued. With each opportunity to
help, support, and give, I feel a sense of fulfillment that I had an
influence and made an impact. That sense of fulfillment is
accompanied by a sense of obligation to serve. The sense of
obligation to serve is accompanied by a sense of honor.
This summer, I
decided to combine my passion for volunteerism and civic activism and
explore entrepreneurialism. This idea was inspired from my own
challenging learning obstacle.
I love learning and
was excited entering a new life chapter in high school though the
environment was less than I deserved. While questioning the good
grades, yet grim test scores in one critical subject, I was shocked
to learn the favorable grades were based on my good behavior, not
learning.
I transferred to a
more structured curriculum school thereafter to push me to my
potential. Though I welcomed that, I was now significantly behind in
the subject. I refused, however, to be the product of a lacking
education and an under-performer.
Over the summer,
through a website, I taught myself the principles of what I needed to
learn to gain leverage and be able to continue with my education in
all subjects successfully. Because money was limited, I could not
fully utilize my tutor's accessibility, but she appreciated my
circumstances and made herself available as needed. I made up the
needed courses, all while taking a college course, and produced
impressive grades.
This experience
inspired me to develop a tutoring and college preparation program
funded by potential investors to assist students of limited means met
with similar challenges. My program's objective is to improve
grades and graduation rates, leading to successful careers.