Name: Andy Nguyen
From: Friendswood, Texas
Grade: 10
School: Friendswood High School
Votes: 0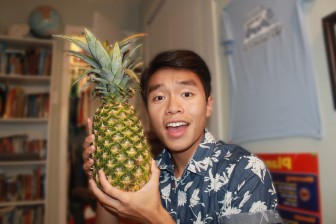 Andy
Nguyen
12th
Grade
28
December 2017
Fueling
the Future
Franklin
Delano Roosevelt once professed that "We cannot always build a
future for our youth, but we can always build our youth for the
future," and ever since I heard that quote in my U.S. History
class, I took it to heart. I decided to act upon this moment of
inspiration and signed up for a volunteering position at a local
summer camp, where I would be able to influence and spread my
knowledge to younger generations.
The
position as a volunteer Camp Counselor, required me to guide campers,
from the age of six to thirteen, to have fun and learn more about
social interactions, all while maintaining a safe environment. I
volunteered at my camp, nine hours a day, every weekday, for an
entire summer, which seems quite exhausting, however, it was all
worth the energy and time to see all of the kids grow within such a
limited amount of time, and as a bonus, occasionally, a camper would
come up to me out of the blue and just thank me for being at the
camp.
Volunteering
at this small, locally run camp has given me a new perspective on the
roles and ages of different people. To further elaborate, as a child,
I used to attend camps, like the one that I volunteered at, however,
the counselors and directors used to be so far and out of reach, it
was hard to tell what their goals were. In contrast, now that I have
experienced the counselor's point of view, I learned that it is
extremely hard to reach out to all of the kids and I strive very hard
to achieve this goal. Furthermore, I have applied this perspective of
trying to look at both sides of an issue to problems outside of a
camp, such as in daily interactions with my teachers and bosses, and
I hope that it improves my daily rituals.
"Forward-looking"
to me, means looking out for one's own future and prospective goals
by acting in the present to set oneself on the desired path. I
believe, my activities are "forward-looking," because not only
does it cultivate a more content and open-minded youth that will
hopefully affect the future positively, but it also influences how I
view society, which will, in turn, affect my long-term goals, ten to
twenty years down the line.