Name: Jake Loewenstein
From: Meridian, Idaho
Grade: Sophomore
School: Rocky Mountain High School
Votes: 7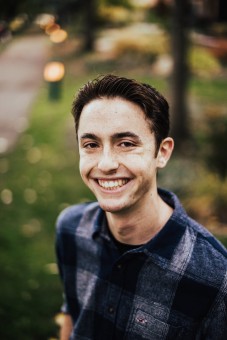 Jake
Loewenstein
29
November 2017
Youth
Forward Scholarship 2017
Fulfilling
the Human Life
There
are billions of hearts pounding, lungs breathing, and brains thinking
in our bustling world. It is easy to get lost in the everyday tasks
of life and forget to help others. Human beings only have one life
to live so we might as well spend at least part of it putting a smile
on an old man's face or distributing food to a citizen that has
nothing but crumbs in their refrigerator. In other words,
volunteering is key to living a fulfilled life–it is also key to
providing a fulfilled life for others.
To
begin, I have volunteered in several service groups: National Honor
Society, Key Club, and ETHICS (Eight Teens Helping in Community
Service). I have been a part of National Honor Society since May
2016.
As a member of NHS
(National Honor Society), I have been able to participate in
activities such as reading to children and cleaning up a local road.
Being able to take part in service as a group is extremely
gratifying. Not only do I feel gratified after helping my community,
my group feels gratified as a whole. This is the same for Key Club
for which I have been a member since September of 2014. I have aided
my community through Key Club by volunteering at an elementary school
carnival, making care packages for kids and need, and others. Also,
seven friends and I formed a service group called ETHICS (Eight Teens
Helping in Community Service). Since June of 2015, we have completed
monthly service projects including serving food at a rescue mission,
packing backpacks for children in need, and others. Overall, all
three of these service groups have provided me with more patience and
empathy to help others.
More
specifically, I have had the opportunity to volunteer at a local food
bank weekly for the past three years (beginning in October 2014). I
volunteer generally about two hours per week. Since I started at the
Meridian Food Bank, I have accumulated about 250 hours there. As a
volunteer, I have been able to distribute food, sort food, and
maintain the warehouse. While volunteering, I was given the
opportunity to improve the quality of life of lower class citizens by
giving them food they desperately need. I was given the opportunity
to socialize with these citizens and improve their day for at least a
minute or two. Seeing the smile and sense of gratitude of customers
at the food bank gave me immense satisfaction. Some customers were
harder than others to deal with, some were spoiled, and some were
just plain rude. But, I still gained satisfaction from simply
"killing" them with kindness and doing what I could to help them.
From volunteering at the Meridian Food Bank, I have learned that not
everyone is born into an idealized family. Not everyone has the
privilege of going to a grocery store to purchase food. I realized
that not everyone has a full pantry to cure the ongoing hunger pangs
we all experience.

Lastly, I have volunteered in a
local assisted living facility. This volunteer job has provided me
with the skills to pursue a future career as a physician assistant or
doctor. I volunteer about two to four hours a week at Veranda Senior
Living. Ever since I have started volunteering here, I have greatly
enjoyed putting smiles on the faces of our older population. By
simply calling bingo or serving food weekly, I have been able to
understand what it feels like not being able to control your life.
Some residents are more difficult than others to deal with, but I
always remind myself of their little control over life. When dealing
with these kind of residents, I strive to be as patient as possible
to ensure their comfort. While volunteering here, I began a
Certified Nursing Assistant training program at a local high school.
Volunteering at Veranda Senior Living has not only provided me with
great amounts of satisfaction­–it has inspired me to work as
nursing assistant in order to gain experience for a future medical
career.
Human
beings only live one life. Our existence is short, but we must serve
others during that short existence. It provides us with great
satisfaction, immense empathy, and deep compassion for others. While
being a member of various service groups, a volunteer at the Meridian
Food Bank, and a volunteer at Veranda Senior Living, I have been able
to feel these exact feelings. Thirty years from now, I will
definitely be thankful for these service opportunities considering
they taught me empathy and compassion. As compassionate creatures, we
must take advantage of our compassion and use it as fuel to serve
others. Albert Einstein puts this concept into simple terms– "Only
a life lived in the service to others is worth living." The world
would be a much happier and healthier place if we all listened to the
man who laid the foundation for modern science.