Name: Adrienne Ora
From: Midland, MI
Grade: 10
School: H. H. Dow High School
Votes: 0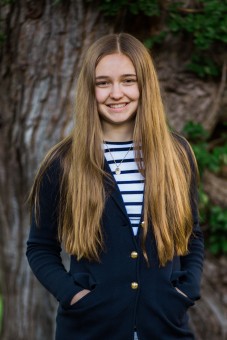 I
have chosen to volunteer in the area of helping the struggling,
mostly with problems with their homes. I chose this firstly because
my church offers a program for youth to help others in this way, but
I have continued because I realize that, for those in tough
situations, this help is really needed. And, though it makes me feel
good that I am able to help, I think my biggest revelation is that
charity should be done because there is a need for something, not
because it gives the one doing charity a good feeling. And putting
the emphasis more on the people that are being helped rather than
those helping is very important to me.
With
the program that I am involved in, I must perform 25 hours of
community service throughout the year, and then go for a week-long
service mission to another community to serve those in need during
the summer. There we usually build or repair residences of those who
cannot afford needed help. I find it hard not only to perform manual
labor for a week, but also to see the conditions that some of these
people are living in. The trip puts into perspective my very blessed
life and all that I take for granted. And I do think that, at least
for those few people that I came into contact with, I did make a
small, lasting difference. At least, I will always hope that I have.
I
think that I am forward thinking in that I often think about what
kind of person I would like to be and what steps I must take to get
there. But though I am cautious, I also know that the only time is
now. I have the great blessing to be in a position to do whatever I
want to do with my life, and I seek to make this true for all people,
so that their futures, for good or ill, really do lay in their own
hands.
And
though I don't see myself being a full-time worker in an
organization such as this, I do find that I have a passion to help
people. I want, at some point in my life, to found a charity of my
own in which I can help after my own passion. I would like to help
people accomplish their dreams, and I believe that an education is
the way to do that, because education is based on merit; anyone from
anywhere can learn if they are willing to and have access to the
right tools if only they are given the chance.