Name: Lauren Graham
From: Overland Park, Kansas
Grade: 10
School: Blue Valley North High School
Votes: 0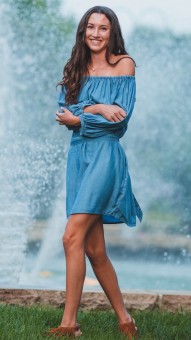 Give
Back to Impact
Something
that has deeply fueled my soul and inspired me to do things for
others is volunteering. I first started volunteering when I was very
young, and I didn't quite understand yet why I was doing what I was
doing or who for. As I got older, I realized that there are millions
of people in the world who depend on the love and support from
volunteers giving up their time to them. I began volunteering as much
as I could, starting at Ronald McDonalds, Deanna Rose Children's
Farmstead, and local elementary schools. Then, I began volunteering
for my church by becoming a youth leader, a DOCK leader, a pastoral
council head member, and by serving ice cream at nursing homes on
Sundays.
In
my junior year of high school, I was inducted into the National
Honors Society. The requirements in order to be inducted are to have
a 3.5 GPA or higher and at least 40 hours of community service. This
year as a senior, I am still a member and I take out recycling bins
for certain classrooms in my school. Overall, however, I have
accomplished over 125 hours of community service for my church,
school and community.
At
Ronald McDonald House, one of the responsibilities was preparing a
meal for 20 men, women and children staying in the home. In my group,
everyone brought their assigned dish, everyone helped to cook and
serve the food, and clean up afterwards.
One
of my biggest challenges as a volunteer is giving my time. I am a
student, I have homework and tests, I have youth group twice a week,
and track practice every day after school, so it can be hard to find
times to volunteer. However, I always make time for volunteering
because helping others is something that I like to do.
Something
that given me great satisfaction in volunteering is seeing the faces
of the people that I have helped. Whether it be preparing a full
meal, delivering Christmas presents to families in need, or making
someone ice cream, it is the smile on their face that brings me so
much joy and fuels my soul.
From
volunteering, I have learned many things. I have learned to never
take what I have for granted, work hard, be kind, and always help the
community. It is always worth it in the end, I have learned, in order
to see the smile on another's face.