Name: Calvin Nicholas Mancini
From: Debary, FL
Grade: 10
School: University High School
Votes: 0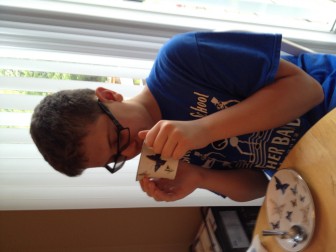 Volunteering has
always been a great objective of mine. For a while now I have been
volunteering at the Deltona Alliance Church to help distribute food
to those who aren't able to obtain it otherwise. Going there are
helping out warms my heart to know that I'm doing what I can to
help these people. As I help out I meet a whole bunch of interesting
people and we have a laugh while getting to know each other. I try to
do this as often as I can every month to help and the event lasts
around 4-5 hours. When I was there I was given a shopping cart and
assigned somebody to help. My job was to follow them and bag the
foods they chose from each station and bring it to their car when
they finished then repeat the process with someone new. Despite how
much I enjoy volunteering my greatest challenge is actually having
time to do so. With school I need to study at home, but I also have
to keep watch over my sister when she gets out of school because I am
the designated baby sitter and we don't have family close to us
that can watch her while my parents are at work. Although, when I do
find that time and can participate it just fills me with glee to be
able to see the smiles on these people's faces. There are veterans,
mothers, and elderly people who truly need this and the fact that all
it takes is a little bit of my time to help then I can do it. As I
have been doing this I have learned not to judge a book by its cover.
I know this is advice said by everyone but as I volunteer there are
some very semi-intimidating people and it makes me not want to
converse but as they speak to me, every time they are always very
kind. I've learned that I will never truly know how someone is
until I make the effort to talk to them.