Name: Katherine Alay
From: woodbridge, Virginia
Grade: Junior
School: James Madison University
Votes: 47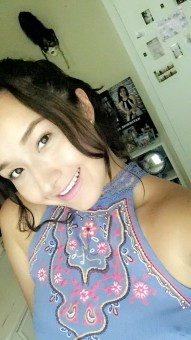 Giving Back
Imagine for a minute how amazing it would be if everyone provided something
in return when they obtained something themselves, or even if they
didn't.
It seems very easy to do this and things would be so much better if
everyone gave back to others. However, this is not the case. I
personally want to change this situation of serving and giving back
to others in order to make this a better world. My four years in
JROTC have greatly influenced my way of thinking because of the many
planning and verbal lessons about community service events. These
lessons prepared to plan for community service events like the
Occoquan Clean Up, Wreaths Across America, and my personal favorite;
my bible class since I am a Catholic. These events have offered me a
great sense of appreciation for everything that I have and have
motivated me to keep doing more things for everyone around me and to
inspire others to serve people around them.
Since my first year as a cadet, I have been participating in the Occoquan
Clean Up. This is an annual community service event where volunteers
go to the nearby marina to pick up trash from the river and the
surrounding forest. Even though our program does not plan this event,
we try to accommodate it with the schedule of most if not all the
cadets in the battalion that would like to help. As I mentioned
before, this is not a mandatory event for cadets, but every year
there are always around thirty cadets volunteering. It is usually
held on a Saturday morning, which can sometimes interfere with family
plans. As a cadet, I have learned to manage my time wisely in order
to go to this event because I tend to have a busy schedule with
school activities and family plans. The JROTC lesson of planning, has
given me the knowledge in how I can manage my time wisely by planning
ahead of time and having a schedule for my everyday use. This
community service event has made me appreciate our environment.
Before this, I never thought giving back would be anything like this,
but thinking about it made me realized that giving back doesn't
just have to be giving back to people but also to the planet that we
live in.
Wreath Across America, was an event that we started this year in the
program. It took a tremendous amount of time to plan for this event.
I clearly remember that we started talking about it in September and
the event was to be hold late November. As the Battalion Commander, I
had to sit down with the two cadets that were running this event and
plan for adjustments that went beyond their work zone. I was able to
share the planning lessons that I had previously learned and other
tips that helped me stay on task for a long event. Even though all
the hard time of planning was vanished by cold temperatures, wind and
rain; my team and I managed to raise a lot of money for wreaths that
were to be placed on the graves by other volunteers at the Arlington
National Cemetery. I personally set a goal to my class to raise the
most money. There was an incentive of a pizza party if they came up
on top, but I made sure that they learned the true value of raising
money for wreaths that would be placed in the graves of our fallen
soldiers. Interesting enough, my class was able to raise over $1,000
alone; about a quarter from the whole battalion. Although, I was
unable to directly go to the final stage of this event, I learned
that when we all work as a team for one specific purpose, that we can
do so much more.
Being a volunteer teacher for bible class at my local church, is something
that I never saw myself doing before. However, verbal presentations
that I have done in JROTC have helped me to better community with
others. As a LET I cadet, I was unable to speak in public or to a big
audience. Now, as a LET IV, I am able to teach a class to students
every Sunday for 9 months. This has helped me to be more open and be
able to spread the word of God. I have learned that this is not an
obstacle and that nothing can hold me back from teaching others my
beliefs. As a teacher, I also use the planning skills to prepare my
classes and the curriculum that I will teach every Sunday. It was a
challenge teaching students who were close to my age, but I have a
set schedule with activities, readings to educate those of Catholic
religion that I love and am a part of. It truly helped tremendously
to have a steady and calm flow during class.
Before my knowledge of volunteerism, I was unable to do many things that
would helped to give back to others. I never knew that planning
skills and verbal communication would have such a big impact on
events that help others. Now that I have mastered these skills, I
have been able to attend and conduct events like the Occoquan Clean
Up, Wreaths Across America and my bible class. Participating in these
events have helped to give back to our planet, work as a team for a
common goal and to spread my beliefs and a sense of satisfaction and
accomplishment to everyone else. I want to continue giving back to
others and inspiring others to do it as well. I believe that if we
all work together to get everyone to give back, this will be a better
world; not just for help others, but because each person can learn
something out of it.